This
Just In!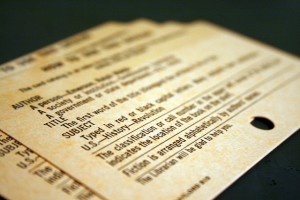 Librarians, generally speaking, were the weird kids growing up. Quiet, bookish, more interested in fantasy worlds than the real one.  Then we grew up, became librarians and found Our Tribe.  I remember how excited I was on my first day of library school when I looked around my classroom and realized that I wasn't the only person in the world that liked to separate their M&Ms by color before eating them.
And within our tribe, we mirrored the social strata of the outside world.  Public services librarians had the flashy, exciting jobs that people who visit the library see.  They hold the story times and talk about the validity of comic books as literacy tools and teach computer skills and help students find that perfect resource to finish their thesis.  Meanwhile, Tech Services librarians are the anal retentive weirdos in the back that don't like to talk to people.  I can't be the only Public Services librarian that told an outsider, "you think I'm strange, you should meet a cataloger."
Let me tell you something.  Tech Services librarians are Goddamn Heroes.
For you non-librarians, in short, Technical Services librarians get the resources in a library collection and make sure that people can find it.
They sort out the myriad licensing agreements and format possibilities offered by publishers and distributors who seem Hell-bent on putting libraries out of business.
They were working with metadata before metadata was cool – providing human classification on terms and concepts that can't be programmed out by a computer to find.
And they make sure that the information is going to be there 100 or even 1000 years from now.
To name just a few of their activities.
And yet, even though their activities are so important to the functioning of the library, they get the short end of the stick so often.  In my corner of LibraryLand – law libraries – specialized law library tech services departments are being combined with main campus libraries.   Some libraries are deciding to outsource their cataloging operations to third parties that – according to their job postings – only require high school diplomas and pay accordingly.
The library community has been struggling with its relevance in the age of bookstore cafes, amazon/kindle and Wikipedia.  Yes, there are probably more comfortable places to study, easier ways to get ebooks and good sources of information that you don't have to leave your home to access.  We're working on that.  We can also point to the fact that we're one of the few places that will protect your privacy in accessing information and make sure all information is available regardless of its popularity.
But I think we fail to appreciate and promote the value that Tech Services Librarians bring to the community as a whole.  We live in an information age and Tech Services librarians can provide the tools and knowledge to make it easier to navigate, via standards like RDA.  Our classification schema and abilities are the crown jewels of libraries and it's time to polish them up and show them off to the world.
So thank you, Technical Services Librarians, for all that you do and have done.  I'm sorry that I have failed to truly appreciate you and acknowledge your contributions to libraries and, hopefully, the future of the Internet and digital information.
Photo Credit: ex.libris via Compfight cc