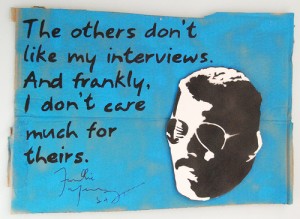 My AALL mentee tweeted that she wanted some library interview advice.  I emailed her this list and thought I should blog it since I'm sure others have this same questions.  Besides, I've been wanting to get back in the blogging saddle.
I have gone on LOTS of job interviews.  LOTS.  Some of been good, some have been so horrible I am still ashamed when I run into the people from that institution at conferences.  I'll never put it in writing, but catch me in person after a few beers and I'll tell you the tale of the Worst Job Interview of All Time.
Anyway, here's a list of tips that I've accumulated over the years.
1) You've gotten an interview.  That means that they've looked at your resume and deemed you qualified.  So  you can leave all the Wayne and Garth "I'm not worthy!" worries at home.  The whole point of an academic job interview on the employer side is to make sure you're not too crazy (as librarians have a certain baseline crazy, as we all know) and will fit in well with the rest of the crew.
2) Getting there. In my experience, it's been 50/50 they make travel arrangements, you make travel arrangements.  If you have any say in the matter, try to get a flight that gives you PLENTY of time built in for delays.  You're gonna be nervous and freaked out anyway…no need to add travel stress to it.  Also, direct flight or carry on your luggage if at all possible.
3) What to wear:   Dark suit.  Boring, yes I know.  But you really don't want them to remember your clothes.  You want them to remember you didn't look crazy and can be a professional.  An exciting piece of jewelery or scarf is fine.   The most important part…COMFORTABLE SHOES.  You will be walking around campus, buildings, up stairs…the main interview day will end up being a good 12 hours and unless you're used to wearing heels all day every day, wear your most comfortable flats, even if they make your legs look a little stumpy in your boring suit.  ALSO, size up on your panty hose.  You don't want to feel like a stuffed sausage all day.  Some times they do a dinner the night before the interview instead of on the interview day.  A nice dress (not too short or not too low cut…keep the peaches in the can, ladies) is appropriate for a wide range of dinner places.  I've been taken to 4 star restaurants and chain places….you never really know.  Also, I personally never drink alcohol at interviews, but that's because I'm a easy drunk and after a half a glass of wine I'm on the table drunkenly slurring "There's once was a man from Nantucket…"  If you can hold your booze and everyone else is drinking at the table, go ahead.
4) Your presentation: A 20-30 minute presentation is pretty standard at academic interviews.  Again, they're not trying to see if your the next Great Pontificator on The Future of Libraries.  They basically want to see if you can string a few words together in front of a group so that they can trust you to handle  teaching duties and so that you can do presentations and work your way up the professional ladder.   Hopefully they'll give you a topic and hopefully it won't be something lame like "The Future of Libraries."   If it is, just make some shit up that sounds halfway reasonable, and you'll be fine.  A lot of times they want a "pretend teaching display."  DO NOT show them how to use Lexis or Westlaw.  No one ones to see that again. And everyone knows it so well they'll be able to catch if you make a mistake or – and there's always some asshole on staff that does this – will feel comfortable asking a really hard "gotcha" question to show that they figured something out about that service last week.   My standard demo back in my early days was demo-ing EISIL.  Find something that people could conceivably need to show students but probably don't use all the time – I'm thinking LII, Fastcase, Casemaker, Thomas, Worldcat, CALI, etc…  Also, much like cake, reliable Internet service is a lie.  Use powerpoint and use screen shots.  Email yourself a copy of your presentation, email your contact at the library, put it on a couple thumb drives and scatter them about your luggage and personal effects.  Putting one in a condom and swallowing it drug mule style is optional.
5) The rest of the day: You'll be meeting with everyone.  EVERYONE.  The Dean, the faculty, librarians, library staff the hiring committee, sometimes people from main campus, the deans secretary and the janitor.  Some of these people you will never meet again.  Obviously, be nice to everyone.  You'll feel vapid answer the same questions over and over again, but banal pleasantries are fine.  Everyone will be asked to turn in a review of your presentation, but honestly, the only people you have to be truly cool and memorable to is the hiring committee.  Don't waste brain energy trying to remember the name of that secretary on the third floor.  Smile, wave, say 'Hi. nice to meet you" and move on.  Do try to take a look at the backgrounds of the people on the committee.  If you're a newbie, you probably won't know anyone in common, but as you get more experience in this world, you'll realize it's very small and you may have some previous co-workers in common that you can pump for intel.
6) The Bathroom.  This is somewhat related to the above.  Ask to go to the bathroom.  Frequently.  Who cares if they think you have a digestive issue or a UTI.  Go to the bathroom every chance you get, lock yourself in a stall and breathe.  Maybe hike up your panty hose.  Also, get a drink of water because you will be talking A LOT.
7) Library tours are fun (for librarians.)  Campus tours are okay, but honestly, how often are you going to be in the Brand New Science Building or whatever show piece they want to show you.  See if there's a place to grab lunch or coffee near your building.  More importantly,  ask to see the town.  What neighborhoods people who work there live in.  At the end of library school I had only lived in Ohio and Indiana.  I was open to living anywhere, even though I hadn't traveled much in the country. The craziest thing about these interviews, in my opinon, is to try and figure out where you'll be living in the 45 minute drive from the airport to the hotel.
8) Ask questions.  Yes, the obvious ones like "how's the budget look?" and "what's expected of me professionally?" but really think about your day to day.  Where do people eat lunch?  How far away is parking?  How do most of you get to work?  Where would my office be?  Can I decorate it? What are the working hours?  What's the dress code?  Can I wear sneakers?  Who decides the reference schedule?  How much autonomy will I have in teaching?
9) MOST IMPORTANTLY. And this is also related to the above, remember that you are interviewing them as much as they are interviewing you. Especially watch how the other librarians interact with each other.  You do not want to work in a war zone.  TRUST ME.  See how they treat you.  If they aren't on their best behavior and trying to make sure you're not losing your mind on interview day, they probably aren't going to notice when your on the verge of burnout in a year.    Yes, the economy sucks.  Yes, it's scary to contemplate being jobless.  However, you should probably plan on being in a job 3 years.  (Says the woman that's already bailed out of two jobs at the one year point.) You'll be spending a third of your life with your co-workers and at your job.   It needs to be good for you.   If you feel red flags popping up, PAY ATTENTION TO THEM. It is okay to say no to a job. Really.
Okay, that's all I got now.  If you have any tips, Gentle Reader, drop me a comment.
Photo credit: http://www.flickr.com/photos/id-iom/