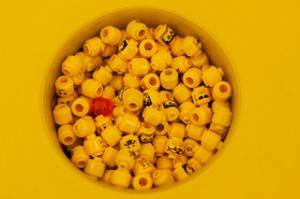 After "where's the coffee?", the second most common thing heard at Legal, Tech or LegalTech Conferences is "….we would have loved to have a more diverse speaker line-up, but it was impossible to find anyone."  Why is that?  Why is it so hard to find women, people of color, or other minority and under-represented populations to present at these events?
For the longest time I went along with the narrative and just assumed that there really aren't many of these individuals working in this space.
Then I saw yet another conference announcement with a bunch of white dudes staring back at me and something inside of me snapped.
I contacted the organizer, pointed out the homogeneity of the speakers and suggested a couple women that I thought would be excellent candidates for the program if it wasn't too late to fit them in.  The organizer immediately responded that they realized this, diversity was important to them too, they asked a diverse group of people and they were waiting to hear back from some more people.  I believed them and was satisfied by this answer.  The only reason I'm not saying their name is because I don't want this to get somehow misinterpreted and a Crazy Internet Pitchfork Mob break out or otherwise diminish their credibility/reputation.  You'll just have to trust me, Gentle Reader, they're cool, I'm cool with them, everything's fine.
The real point is, in the time it took me to type up the email, I was easily able to come up with five women that would be appropriate speakers.  Then, a little while later in response to one of my many rants on twitter about gender and feminism, another conference organizer contacted me and asked for names of diverse speakers.  This time, in the space of about 10 minutes,  I was able to provide a list of 20 women and people of color without even breaking a sweat and even scratching some off my list because I had heard them speak and wasn't impressed or couldn't entirely vouch for them.  And these were all women and PoC who would be as credible of a speaker as any white dude.
So I ask again…why is it so hard to create a legal, tech or legal tech event with a diverse speaker line-up?
First I want to talk about why diversity is important. <Checks calendar. 2014? Really?  *siiiiiiiiiigh* Okay.> Although there are people out there doing their damndest to automate and standardize the practice of law, at the end of the day, law is always going to be interpreted and enforced by humans.  And humans are unpredictable.  A couple of illustrations….
(1) Rape is a crime of violence.  However, when hearing about a sexual assault, a depressingly large number of people immediately ask, "well what was she wearing?".   Ignoring the assumption that the victim was female, the fact remains that no one would ask someone that was beat up at a bar what they were wearing.  Who cares?  Well, if you were prosecuting this case (or representing the defendant), you had better believe that this question is going through the jury's mind and you'll have to address it somehow.
(Related to above, if you are of the male persuasion, ask a female you know about what they do and what goes through their mind when they walk out of a mall and across a parking lot at night.  You'll probably be surprised. )
(2) Starting a few years ago, researchers began looking at the application of the death penalty with regards to race.  The surprising discovery isn't that African-Americans receive it more. Sadly.  No, the real shocker from these studies is that the race and gender of the victim was a major determining factor in application of the death penalty.  Kill a white man? You're in trouble.  Kill a black woman?  Meh.
The people on these juries aren't bad people.  They've just been conditioned to think this way, in large part because the culture of the United States is still very segregated by race and gender and ability and economics and a whole host of factors.  And not because of some nefarious plan, but because the legal system and popular media has been controlled by white males and people are instinctively self-centered.  Taking on the perspective of an "other" and then making sure they and their interests are represented accurately is not easy.  Especially if you've never been exposed to them in person or even in popular media.  And since outsiders either weren't represented or were  misrepresented, it wouldn't occur those in charge to invite them into the power making club.  And thus, the system becomes self-propagating.
So Sarah, this is becoming uncomfortably close of a Women's Studies 101 lecture. What does this have to do with legal and tech (and by extension me)?
Well, taking the first step to ensure that you are exposed to people different than yourself allows you to take on different perspective and ideas.  When you are making products that will be used by a very diverse set of people, that can only benefit your product and when your product is legal in nature, the effect of human diversity is felt even more. Make sense?
It's easy to fall into the trap of thinking that just putting diverse people on a speakers panel and giving them a voice is good enough.  Check off boxes of various phenotypes in your conference program and bask in the glory of being politically correct. And, to be sure, it's important for "show" reasons.  When you see someone that looks like you or has a similar background, it (a) makes you feel welcome and (b) makes you think that maybe one day you could be up there too.
For example, if you've met me in person, you know I am fat.  (I don't consider that word a pejorative, btw, just a descriptor.)  It's not a red handle for me, but growing up fat wasn't the easiest thing in the world.  I was fortunate though that when I was a teen the movies Hairspray and Circle of Friends came out.  In both, the protagonist is a fat girl who gets the guy.  Who gets the HOT guy.  Which was a mind-blowing idea for me.  Fat girls NEVER got the guy.  They never did anything but hold the pretty girl's coat while SHE danced with the hot guy.  But seeing those two movies at an impressionable age really Alsochanged me and made me think it was possible that some day a hot guy would want to date me too.  And, related, who knows how many hot guys out there became slightly more comfortable with the social acceptability of dating a fat girl too?
Anyway, never underestimate the power of feeling welcome and of possibility on someone.  It's a snowball effect, really.  A diverse speaker line-up encourages a diverse attendance because attendees will think "hey, I belong there."  More diverse attendees means people joining your community and eventually becoming experts that can speak at later events.   Also, the more often your "traditional" audience sees diverse people speak, the more comfortable they will feel with them in board rooms and  break rooms.
But diversity is about more than show and about more than giving a voice.  It's actually about the audience listening and learning which, in theory anyway, is why we attend professional conferences to begin with.   And it's about more than what happens on stage. To truly benefit from diversity requires a give and take and willingness to openly communicate with those different than you. We also should embrace all facets of diversity, not just the biggies like race, gender, sexuality or physical ability.
I'm female.  I'm a librarian.  I'm an Appalachian. I used to work a public service desk in Kentucky. I'm fat. I currently am  being treated for severe depression and other mental health issues.  I have red hair.  I've had some other serious medical issues.  All of which color my perspective, but not all of them are apparent just by looking at me. The only way you are going to find out about these is by talking to me.
At this point, I'm going to finish with the classic feminist blog post beginning and assure everyone that I like white men and I don't think you're all evil sacks of shit just waiting to break out the booze and whores as soon as the women and PoC leave the room.  Actually, I wouldn't want to go to a conference where the speakers were only women…because I'm a woman.  I mostly understand things that a woman would say.  Hearing the white male perspective is actually revelatory to me.  My point is that it shouldn't be the only perspective being offered.
Image Credit: http://www.flickr.com/photos/pahudson/ CC-BY