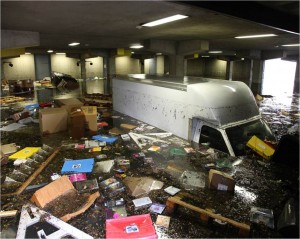 Having spent pretty much my entire life within spitting distance of the Ohio River, I've become accustomed to floods as a regular part of life. However, with river floods, you generally get some warning.  Weathermen can track the flood's arrival and give a pretty good guestimate at what the levels are going to be.  As a result, residents have a chance to get out of the way and move at least some of their goods to higher ground.
What happened yesterday in Louisville was not a regular flood.
We've had an unusually rainy summer here in the Bluegrass, but yesterday topped everything.  It's estimated that Louisville got six inches of rain in 75 minutes.   That is a lot of water for a city's storm drains to handle, and you know what? Louisville's couldn't.  Flash floods swept through Louisville, shutting down huge swaths of the city.   (We had some minor flooding here in Lexington, but nothing on this level.)
It's a dangerous thing to say in Lexington, but the city of Louisville has always had a warm place in my heart.  It's a lot like Cincinnati, but a little more genteel and without as many Germans.   Besides, my dad went to school there, I had family there, and I generally like river cities.    Additionally, the Louisville Free Public Library has always seemed special to me.  For one, my friend Greg Schwartz works there.   But I also really like public libraries that have the "Free Library" or "Free Public Library" name.  It's really only in the past 130 years or so that free, public libraries have become commonplace.  Prior to that, access to books was limited to those that could afford subscriptions and/or those affliated with institutions that provided libraries. (And, again, not too many people were going to college in the 1800s.)  So the Free Public Libraries democratized information access…a service they still provide today in the Internet era.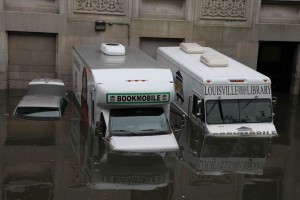 My heart was breaking yesterday as I followed the news coming out of Louisville via Twitter.   At first there was a brief report about some flooding in the library.  Then there was something about the U of L campus being closed.  Then I saw a this picture and realized that things were Very Bad Indeed in The 'ville.   The latest report is that there was about 3 feet of water and sewage (ew) in the LFPL.  Which is horrfiying enough, but when you realized that's where most of the tech services and  collection management activities took place, well then it becomes a downright tradgedy. (You can check out some of Greg's on the scene pics here.)    Early estimates are that the LFPL suffered $1,000,000 in damage, including the loss of their bookmobiles.
Bummed out by this?  Me too.  But you can help.  First of all, DO NOT send them donation books.  I know your heart is in the right place, but in a widescale catostrophic event like this, donation books are more trouble than their worth. Trust me…it's librarian stuff.   It sounds crass, but in times like this, what the library does need is cold, hard cash.   The Library Society of the World is collecting money if you'd like to be part of a big lump sum effort.  Details on how to do that appear on LSW Carping Nerdboy Steve Lawson's blog. (At this writing, we appeared to have killed Steve's blog, so info can also be found in this FriendFeed post.)  You can also donate directly to the City of Louisville's Library Fund.  And if you have any extra dough, the KY Human Society could use some help too.  They had a heck of  a day yesterday as well.