In a ritual repeated in law school libraries around the country this month, I'm getting things tidied up around here in anticipation for the new school year and the arrival of students.  Some of this took place online – cleaning up our library Facebook page, rebooting our blog so that it matches the look and feel of our fancy new website – and some was a simple reorganization of the piles of paper on my desk.  And by that, of course, I mean throwing out lots of stuff and hiding what I couldn't throw away in drawers.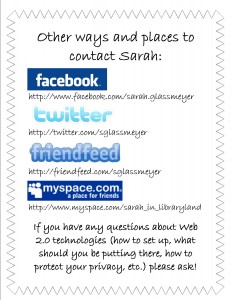 Since I had social media and fall prep on the brain, I got inspired to create a sign for my office door that listed some of my social media profiles. (I will eventually have this information put on my official library bio webpage as well.)  As you can see, I decided to use Facebook, Twitter, FriendFeed and MySpace.   I'm not hiding my Flickr, blog,  del.icio.us, etc.  accounts – a person will easily find them if they add me on a contact on any or all of those sites.   I chose the ones I did because those are the main "communication" ones and if a student wanted to contact me outside of regular channels, these would likely be the services they use.
As one of my correspondants noted, a student could easily find this all out by googling me.  That's very true.  But (a) I can't imagine my students would find me interesting enough to want to google me (b) this shows that I am open to being contacted this way, and (c) it presented an opportunity to advertise my skillset beyond what they might think a librarian can do and possibly open a dialog with a them about social media.
There are two main issues that arise when law school faculty/staff interact with students on social media sites.  (1) How should we be interacting with law students (if at all)? and (2) Where does one draw the line between personal and professional on social media sites? (An issue that my CS-SIS Web 2.0 challenge group wants to talk about this week.)  I don't have hard and fast answers to these questions.  All I can say is that I've found a comfort point (after some missteps) and have figured out what works for me.
So, for starters, I do interact with students on social media sites.  Here are the rules I've developed for myself:
(1) I don't go "snooping" on students.  If they haven't added me as a contact, I don't look at their profiles/sites.  This one is really hard for me since I am very nosy by nature and I work at a relatively small school with a tight-knit student body.  So, yeah, I'm sort of curious sometimes to see pics from that Saturday's football tailgate party, but it's really none of my business.
(2) I am very open about the fact that I am active on social media sites. I usually mention it in the first part of class as part of my contact schpiel, I now have the aforementioned sign on my door, and students have caught me facebooking at the reference desk often enough that it's not a huge secret.   I am also very clear about the fact that, while I don't  snoop on their sites, I do run vanity searches pretty regularly.  So they should think twice before setting up a "Sarah Glassmeyer is the Worst Legal Research Professor EVAR"  Facebook group.
(3) I don't initiate contact.  If a student wants to add me, that's up to them to choose.  I don't want them to feel pressured about this in anyway.
(4) I treat all students the same. For example, if student X challenges me to a game on Facebook and I accept, I need to then accept all challenges from students.
(5) I take ethics very seriously and I make it very clear to all students that do add me as a contact that if I see illegal/unethical/otherwise stupid conduct that they are engaging in come through my news stream, I will at the very least call them into my office and rip them a new one and and at the very most contact the authorities if appropriate.
As far as separating professional and personal lives on the Internet, the short answer is: I don't.  At least as far as you'll ever know.
I have one profile listed under my real name on just about every social media site out there and on these I mix co-workers (past, present and future), family, friends and students.  It works for me for a couple of reasons.
(a) Most of my friends are also librarians so the line between "professional information sharing" and "friend time" is blurry.  (Sometimes within the same conversation…I was recently in one that kept drifting between a comparison/contrast of programming languages and our respective religious upbringings.  It sounds sort of weird, and I guess it was, but it worked.)
(b) I generally don't put anything too obnoxious or risque on the open web and under my name, and just in case I'm tempted to, I've added my mother as a contact on most of these sites and that brings me back to sense right quick.
(c) I don't like keeping secrets (my sister would tell you that I am physically incapable of doing so) and generally live a pretty open life.  A recent example of this is this thread on FriendFeed where some friends were commenting on my illness-caused bruises.  I don't care if people know I am sick, but I can see where someone might not feel comfortable discussing this about themselves (or maybe even knowing it about me – sorry! Um, also sorry about the nun punching jokes that appear in that thread. It was a joke!  I love nuns! )   If I didn't feel comfortable, I wouldn't have said anything.  Simple as that.  And, believe it or not, there are lots of things that I don't reveal.  As another of my correspondants has noted, the public web presences serve as a bit of a rodeo clown and distract people from what you want to hide.
And notice in the above point the terms I italicized.  I've been blogging or otherwise communicating on the web since 2002…for the most part under a nom de keyboard.   And maybe it's because of the whole inability to deal with secrets thing, but I used to worry so much about "being found out" that it ultimately became unenjoyable for me even though, again, I never really posted anything too out there.  I still have my anonymous accounts on various sites.  I've just learned, thanks in no small part to my open web presences, what information to provide and how to provide it in such a way that I can keep hidden.
(d) I don't want to say that I'm not a serious person, because I am. (A co-worker chided me again today for taking things too seriously.  Apparently I can't offer an opinion on a shirt without going into a long-winded discussion of slippery-slopes and consequences. *hurrumph*)  So I am serious, but I guess you could say that I'm not formal.   I don't make the students call me "Professor Glassmeyer", I have a hard time containing my emotions, especially when I get excited and geeked out about something, and as generally when I am in my office, I am not wearing shoes.   So I'm perfectly okay with posting pictures of myself standing on my office furniture on Flickr.
You may not be.  That's okay. And if you want to maintain separate profiles for professional contacts and personal ones, that's okay too.  Or not even add certain people as a contact or remove them after a point.   You are totally in charge of your social media experience.  What you share, who you share it with, all of it…it's all up to you.  So figure out what's comfortable for you, and move the goalposts as needed.  (The above couch standing picture is a lifetime away from my initial comfort level with pictures of myself on the Internet).   If you don't feel comfortable, you won't use social media sites.  If you don't use social media sites, you're missing out on lots of opportunities for learning and engagement.  Simple as that.