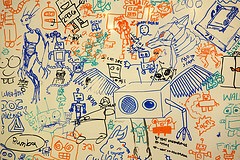 They say that necessity is the mother of invention. But what about reinvention?
When I was young I heard a quote by Michaelangelo that went something like "the statue is already in the marble, all I have to do is chip away the excess." I thought that life was like that – that there exists in the ether the person that you are supposed to be and life was about trying to figure that out and having the experiences that brought you closer to there.
Recent events have caused me to revise this theory. Now I am much more of the idea that life is what you make it to be – in other words, life doesn't happen to you, you happen to it. Granted, I know the freedom to choose what we do in life and how we chose to do is often limited by outside factors. Believe me, after the past few years, I am deeply aware of this fact. But the power of choice hasn't been entirely eliminated.
Or maybe because I'm turning 40 this year that I have decided to just live the Hell out of life.
Whatever the cause, all of this has been preamble to announce some changes in my life and very exciting news. I will be spending the next academic year as a Fellow in the Library Innovation Lab and a research affiliate of the Berkman Center at Harvard University. I am going to be doing s mix of research and creation, working in the area of free/open law and information.
There are basically not enough adjectives in the world to fully encompass how I feel about this amazing opportunity, but a good start would be to say that I am honored and humbled and very very excited. It is absolutely amazing to me that I, a farm girl from Appalachia, am going to be a research fellow at Harvard.
(And all I had to do was apply for it. Who knew! Let this be a lesson – never be scared to try for something big, no matter how crazy it seems and how unlikely it would be to happen. Especially if you're a librarian… we need to branch out and invade the spaces that are making decisions and proclamations about our world.
Which reminds me – I am very excited that a Fellow in the Berkman Center is going to be Jason Griffey, another librarian [and Appalachian.]. He has done lots of cool thing and I'm really excited to have this opportunity to get to know him better. I couldn't think of anyone else in libraryland that I'd rather see as at Berkman.)
I have no idea what I'm going to be doing post Harvard. Or what exactly what I WANT to be doing The past four years have seen a bunch of personal and professional changes. I thought I was coming to an end to the changes, but I've come to realize that I, to paraphrase Winston Churchill, am only at the end of the beginning.
Here we go….
Photo Credit: nicknormal via Compfight cc