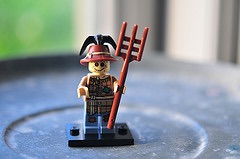 It appears some of my tweets have inspired a post over on Above the Law.  I don't necessarily disagree with most of what the author said – the one exception being the use of the clueless techie fly by night straw man as representative of all of legal tech.  Instead of delving into that, I'll point you to this post by D. Casey Flahtery where he pretty convincingly kills that stereotype.  I can say that pretty much everyone I know in the legal tech world is doing so not out of some desire to get rich quick off the backs of suckers but rather because they did practice and saw opportunities for change.
(Whatever "practice" means – I mean, personally I don't think it's productive to decide who the "real lawyers" are – is clerking for a judge enough? Being a corporate counsel? A law librarian like me that worked closely with pro se and small/solos? Academics that study the practice of law and see the depth and breadth of the legal world? Someone that spent two years in an AmLaw 100 and never actually spoke to a client one on one?  Can we maybe just accept that the legal world is broad and deep and all levels of experience have value to bring to the conversation?)
But I digress….
Still, I've been thinking a lot about this topic since I saw the post on Friday.  In some ways, it feels like it proves the point of my second tweet, the one let the author down as it shows my reaction to all legal tech isn't to just point and laugh but also to wish the legal world was more open to it, either by personal adoption or regulatory changes.  It made me wonder, as I did in this tweet, "At what point has tech world offered enough "proof" and the legal world has duty to educate itself about uses and possible benefits of tech?"
To me, the question is not "do you accept technology has your personal lord and savior?" but rather "do you think the status quo of the legal practice world is unsustainable and unethical ?" (And I'm going to go out on a limb here and say that being okay with an 80% access to justice gap is unethical.)  If one answers yes to that question, what are you going to do about it?  Thousands of law school graduates cannot afford to practice law and even more thousands of people are going unrepresented because they cannot afford the attorneys that did hang a shingle.   Again, what are you going to do about it?  Point and laugh or look for solutions?
Photo Credit: julochka via Compfight cc