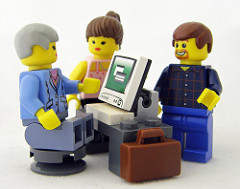 Yesterday, the initial speaker list for Clio Cloud Conference was announced and yours truly was one of the ones listed.  Granted, I've developed sort of a Jimmy McNulty defense mechanism for every time something I say or do hits the twitter feeds hard.  But still, I was braced for impact over this one.
Why?  They list me as being a "librarian and attorney."
Now, it's technically correct – which is the best kind of correct – to say that I'm an attorney.  I went to an ABA accredited law school, passed the bar in the Great State of Ohio and took an oath, something I do not do lightly.  But I never practiced in a law office and my license status is currently inactive because I live out of state and didn't want to deal with CLE requirements.  My career has been spent teaching aspiring law students and helping those that were falling through the cracks of the justice system and trying to navigate through the legal information ecosystem.  So I get a little bit nervous when someone calls me an "attorney."
On the librarian side of my professional life, we are constantly having fights about "who is a real librarian?".  For many, the possession of the Master of Library Science (or equivalent) degree is the determining factor.  Everyone else, regardless of their job duties, is just a para-professional.   For me, I look at what the person does in their job and how they do it.  I've previously written about what it means to be a librarian, but the tl;dr is if your job allows you to provide access to data, information and knowledge, in any of the meanings outlined in that post, you're a librarian in my book. I don't care where you went to school or if you went to school.
For reasons I can't quite figure out,  I hold attorneys (and myself) to a different standard.  On this side of my professional life, the degree and the bar passage are most important determinant of someone's "lawyer-ness."  The actual practice of law is so varied that at first glance I have a hard time determining who is a "real lawyer."
(This post was actually inspired by something I saw on twitter this morning about small/solos being 100% lawyer, while big firm people were only 50% lawyers.  Think about it… a small/solo in Kentucky vs. a big law criminal defense lawyer in New York City vs. an IP lawyer in Silicon Valley vs. a public defender in Chicago vs. a legal aid attorney in Iowa vs. corporate counsel in Miami.  Wildly different jobs.  Are you prepared to declare one of these the "real" lawyer?  Because I am not.)
Clearly all of the above are attorneys, but who else?  I'm still working out a definition, and you're more than welcome to add your own in the comments, but it's something like "someone who has taken the oath and works in the legal system in some capacity that ultimately serves clients or increases access to justice."  So law professors?  They increase the knowledge base and understanding of the law which increases access to justice plus they teach baby lawyers, so they're attorneys.  Someone that works for a legal tech company?  They are making tools that allow attorneys to function better and serve their clients better.  A Legal Project Manager for a AmLaw 100 firm that never actually talks to clients?  They make sure clients are getting the most efficient service, so yeah, they're attorneys.
As the practice of law and legal world continues to change and new roles are added for people to take on, I suspect that this is a conversation that will continue (and become quite heated at times).  My inclination is to include as many people as possible under the lawyer/attorney umbrella so that the attorney rules of ethics and dedication to serving the clients is enforced as much as possible.
Photo Credit: Kaptain Kobold via Compfight cc