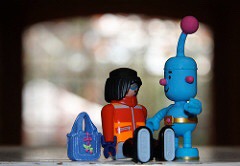 Chatbots are everywhere in legal news these days. I just read Greg Lambert's "Now I Want a Chatbot" post on 3Geeks in which he lists some of the ways that law librarians could use Chatbots. There's one thing missing from the post – how to get a Chatbot!
Believe it or not, Chatbot technology is very much in reach for everyone. Yes, even you!
Here are three FREE Chatbot makers that require no coding knowledge.
Motion AI – an artificial intelligence (the other big buzzword) backed Chatbot maker
ChatFuel – make a Chatbot using Facebook messenger
QnA Markup – an open source (yay!) Chatbot tool that you can easily deploy in websites. You can also use it for document assembly (and withnthat I've hit the trifecta of legal tech hot terms.)
Okay, I said no coding knowledge was required, but I kinda lied with QnA Markup. You do have to use Markup to edit it, but if you've ever edited a Wikipedia page, it's a lot like that. It's really easy, I promise. You basically just have to put "1" in front of your sentences.
As with a lot of things in the tech world nowadays, the tech is the easiest part of the equation. The really hard part is coming up with the content for the bot to say. QnA has a nice gallery of use cases that might inspire you.
Photo Credit: paloetic Flickr via Compfight cc