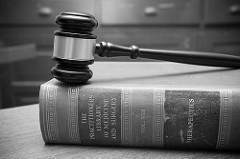 It seems obvious that one of the ways to prepare law students to be "practice ready" when they come out of law school is to put them in situations where they practice practicing.  In other words, legal clinics.  There's also the not inconsequential fact that they help increase access to justice by providing free legal help to the community.
My law school (at the time) didn't have clinics, a fact that I will forever be salty about.  Given the type of law student that I was and how deeply introverted I am it remains to be seen if I would have actually participated in a clinic, but I wasn't even given the option.  So…..salty I remain.
The ABA collects data every year on law schools and the most recent year's data was just released.  You can check it out here. I was glancing through the spreadsheets, because that's exactly the type of nerd that I am, and I saw that they collect curricular offerings, which I have never noticed before.  A quick check shows that they've collected this data, it's just that with my particular interests in the past I've never noticed them.
I saw that they collect the number of seats available in clinic courses.  They also collect the number of enrolled students.  So a very simple excel formula would let me know what percentage of students at each law school had the chance to take a clinic course.   The "winner" was Yale, with more clinic course seats than students.  But they're an anomaly.  And, you know, Yale.
The top ten ended up being:
YALE UNIVERSITY
NEW HAMPSHIRE UNIVERSITY OF
VALPARAISO UNIVERSITY
CALIFORNIA-IRVINE, UNIVERSITY OF
DISTRICT OF COLUMBIA
WISCONSIN, UNIVERSITY OF
PUERTO RICO, UNIVERSITY OF
HAWAII, UNIVERSITY OF
FLORIDA COASTAL SCHOOL OF LAW
ARIZONA, UNIVERSITY OF
Some good regular people schools in there.  I note with a touch of sadness and irony that my former employer Valpo is listed.  They are currently on the selling block and likely to close in the next year.  But 86% of their students could take a clinic course…they just couldn't pass the bar.   If you want to see the full breakdown, I put my spreadsheet up on google docs here.
The overall average of schools was 28.5%.  So only roughly a quarter of law students have the opportunity to practice practice.  The legal academy needs to improve upon this if we're ever going to come close to the mythical "practice ready lawyer."
Photo Credit: weiss_paarz_photos Flickr via Compfight cc