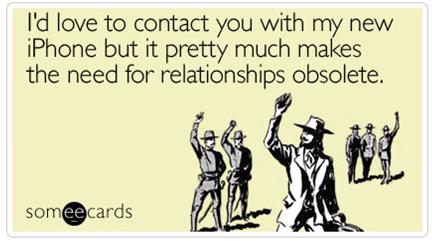 Well, I did it.  I made the leap and got a "big girl phone."
In my case, I got an iPhone.  It's been a few weeks, and I'm torn between being surprised that I did it and amazed at how I'd ever been able to live without it.
Until the iPhone, I had been using a basic, pay as you go cell. (I got the idea from drug dealers on The Wire – classy!)  This arrangement suited me for a long time. (1) I didn't want to be connected to the Internet/email at all time (2) I've never been a "let's chat on the phone for hours" type person – I rarely even texted. (3) As we've previously established, I'm a cheapskate and the idea of paying a lot of money for the initial hardware PLUS a not-insignificant monthly bill offended my sensibilities.  (4) Despite my techie cred, I'm not really an early adopter.  I generally like to let others work the bugs out of a system before I dive in, especially if there's a monetary investment to be made on my part.
But, slowly the situation changed and it finally made sense for me to make the leap to a smart phone.   There was the time I got stranded in DCA airport post-AALL2009 at 11pm and had to unpack my netbook and buy internet access so I could get a hotel room. Or when I added a mobile plugin to this website and couldn't check to see if it worked, or really had an idea of the difference between the mobile Internet and regular.  Or the multitudes of times that I was away from the Internet (i.e. away from home or work) and unable to connect with people that I usually talk to that way, either via email, Facebook, FriendFeed, Twitter, etc.  And considering that's pretty much how I interact with people 95% percent of the time….well, you see the problem.  I've also seen them used more and more by people around campus, which made me think that it was something I needed to investigate.
Finally, whereas some women buy themselves jewelery when they need a pick-me-up and others shoes, I buy small electronics.  I was torn between a smart phone, Kindle or GPS.  I realized that if I got an iPhone, it had apps and hardware that mimicked the Kindle and GPS…so you see, I COULDN'T AFFORD NOT TO GET AN iPHONE.
Okay, that was pathetic.
I'm okay with that.
So now I have an iPhone and it's opened up an entire new world to me.  And, as is often the case with me, I began to wonder how it might be used with my library gig. (There's a free app I like called "SnapTell" that lets you take a picture of a book, and then runs a search on Amazon, google, etc for purchasing information…but not a WorldCat search to find it in a library. Can we get in on this action?)   The way I see it, there's a couple different ways to utilize mobile technologies in libraries and/or things that libraries and librarians need to be thinking about.  (1) Public services uses of text messaging – e.g. ready reference questions or tours (2) Tech services uses of text message – e.g. text message from OPAC (3) Websites that are mobile friendly (4) Mobile ready OPACs and other databases (5) App creation.
Fortunately, as with Web 2.0 technologies, there's a lot of free and easy ways to get into the game.  For example, libraries can use Google Voice or free Instant messaging clients to use text messaging without a dedicated library cell phone.  Or there are plenty of free mobile website creators such as MobiSiteGalore that will create a mobile version of a website without any real technological knowledge needed.  Mobile OPACs, databases and app creation take either a little more expertise or assitance from vendors or both, but are still viable options for most libraries.  I hope to delve more into specifics in time, but until then,  the Library Sucess wiki (a great resource if you haven't used it before), has a complilation of examples of mobile tech uses by libraries.