I am made weary by the reports of the death of libraries.  And by "made weary", I mean "aggravated to Hell and Gone" by them.
I guess I could understand if it were coming from outside of  LibraryLand – and to be sure, there are plenty of those voices, from the strangers that ask me "isn't everything on the Internet?" when I tell them I'm a librarian to college administrators decreasing library spaces because "all research is electronic now" and every state funding cut of public libraries in between.
No, what I don't understand is the rush from within LibraryLand to commit hari kiri.
Some wounds are deeper than others. For instance, the Dean of Libraries at Syracuse posited last week at Educause 2009 that "the library, as a place, is dead."  Some are more subtle, such as the Special Library Association proposing to remove the name "libraries" from its name because those who make budget and hiring decisions would better understand what a "strategic knowledge professional" is than a "librarian."  And then there are the 1000s of little ways in which some libraries and librarians slowly ease themselves down the mortal coil…for instance, turning management of our collections over to commercial vendors instead of investing in open source products operated by and for the benefit of the community or refusing to adapt to changes in technology and patron preferences (or being so enamored of technology that we forget about actual patron needs.)
So, Gentle Reader,  I am an annoyed librarian.  No, I am not THE Annoyed Librarian.  The day I publicly state that passion and enthusiasm don't matter is the day I get out of the game.  The Annoyed Librarian is just the type of naysayer and head in the sand type of librarian that is going to kill the profession.  Now, admittedly, I have a romantic view of libraries. I believe that we hold a sacred position in society, much like clergy or medical professionals. (I initially included lawyers in this list, but, well…one fight at a time, yanno?)  We preserve, protect and defend the units of culture – ideas.   From our laws to the classic works of literature, and, yes, even the latest teen romance novel featuring vampires, these are all valuable in their own way.   And just as important as preservation, libraries provide access – they make "men's talents a public possession."

So why are we throwing in the towel?  Because of the Internet?  Okay, check it…libraries have been around in one form or another for about 4500 years. In that time, the form of information storage has gone from clay tablets, to papyrus, to parchment, to books and now to digital storage.  We gone from being store houses for government records, to being exclusive clubs for the rich and learned, to being a gateway of education and now guides through the forest of information available in the digital age.
Change is constant.  Deal with it.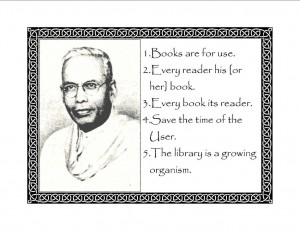 The gentleman here is S.R. Ranganathan. He is widely known as the father of library science and his Five Laws form the basis of everything I do as a librarian.  At least I try to make it that way. This picture is actually a copy of the poster I made that hangs over my desk…I like to think that he's keeping an eye on me and it reminds me to think before acting. (If you want a copy for yourself, I've uploaded it here under a creative commons license…go wild.)   Although he wrote these long before anyone thought about the Internet, or video games in libraries, or twitter or any of the other things that seem to have librarians confused as to our purposes, his Five Laws can still be used today.
Here's how I see it:

1. Books are for use.
First of all, scratch the word "books."  Don't get me wrong, books are great…they're just not the only game in town anymore, so let's just say "information."  Okay, so information is for use.  What does that mean?  Well, for starters, it means that libraries can't just be repositories like they were 4500 years ago.  They shouldn't even be locked down like they were 200 years ago.  The information should be accessible – open stacks and circulating, unless, for example, they are book so rare or fragile that they can't be risked to loss.  Fortunately, we now have ways around this, such as digitization or even scanning to a durable format like fische.
2. Every Reader His Book
This law speaks to the collections in a library.  I'm an academic law librarian.  My "readers" (or information consumers) are varied.  I have law students, undergraduate students, the general public, law professors and members of the bench and bar.   All of their information needs are different and my library's collection needs to meet them.

3. Every Book It's Reader
If a source of information is not being used, Ranganathan says that we need to make it more accessible.  Catalog it so people can find it. Provide book displays, or pathfinders or – dare I say it? – make  a LibGuide so that people know about it. Organize your website so it's user friendly and people can find your digital collections.  Make it clear how they can find an article or a book.

Okay, the first three are pretty basic…information should be available to people, libraries need to collect the information that people need, and librarians need to make sure that people find it.  Hard to disagree with those.  The next two are where things may get a little uncomfortable for some people.

4. Save the Time of the Reader
There are dozens of ways to save the Reader's time!  Why wait to put library news in a monthly printed newsletter, when you can put it in a blog?  Why just put it in a blog which they may or may not check, when you can also have it directly sent to the patron's twitter stream?  Staff your reference desk during the hours that patrons need help…or maybe offer virtual reference servcies (email, chat, or maybe even via text message)  so that they don't have to even come into the library.   Provide good signage so they can navigate the stacks.  Make the language on your OPAC clear so people know they should attempt a keyword search instead of an LOC subject one.  The list goes on and on….

Back to my library…in addition to varied information needs, my patrons have different format requirements.  It's not    that the 18 year old college freshman can't be taught to use a book.  And the 87 year old attorney could be taught to use a database.  I'm just saying that maybe they shouldn't have to learn if the information is available in a format that they are comfortable with using.   Some of this could be put under law two….every Reader has a book, and that book just may be a database.  However, I don't want to confuse content with format.   In my library, we have the same piece of information in multiple formats – (e.g. Kentucky Revised Statutes appear in print, microfiche, electronically via commerical vendors, and on the free web in PDF format from the commonwealth.)  Clearly we need to have the KRS because of their content, but the differing formats are for preservation and access reasons.

5. The Library is a Growing Organism
Okay, so the library may not be a quiet place with an imposing reference desk and paper card catalog.  Well, guess what? It's also not a closed place with books behind bars and only open to the very wealthy.  Nor it is an archive of papyrus rolls.  It's okay!  Or in other words….. change is a constant.  Deal with it.
Not matter what type of library you're in or what you do in it, it's important to remember that you are in a service industry.  And, in the words of Karen G. Schneider, the user is not broken.  Let me repeat that…THE USER IS NOT BROKEN.   Remember that college dean I mentioned at the beginning of this post?  She was talking about the physical place of a library.  As my colleague at UK Stacey Greenwell pointed out, intellectual commons and in person interactions are still a vital role of libraries.    To support her statment, the dean also said, "Cutting-edge scholars in the humanities are building new disciplines and online environments are are, in effect, libraries themselves; they are diffuse, collaborative, non-hierarchical, always changing." It's almost like she's blaming the scientists for leaving…I wonder why libraries weren't providing or assisting with the creation of these online environments in the first place. Just because students don't seem to want a quiet study place or scholars want a place with stacks to roam, we shouldn't throw out the baby with the bath water.
Broaden your ideas of what a library may be…maybe your reference desk with move to a virtual realm instead of a physical one.  Or maybe your library will have mostly digital collections.  Or maybe very little will actually change in your day-to-day job duties and environment.  As long as the needs of your patrons (both present and future) are being met in a timely manner, it'll all be okay.   If they're not,  perhaps you should check in with Ranganathan and see what needs to change.