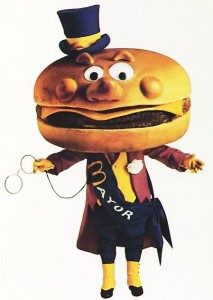 …and yet, I still don't have an office with a window.
One of the things I wanted to play around with this year (and one of my predictions for 2010 Big Thing) are geolocation based applications.   There was one slight problem:  I live pretty much smack in the middle of nowhere…at least as far as developers are concerned.   I could only watch while my coastal colleagues checked in on a variety of geosocial services.
(As an aside, one of my Big Issues is to keep reminding tech people that it's not that people who live in the middle of the country don't want to utilize some services, but that they are physically unable to.  High speed internet and mobile telecommuication networks simply do not exist in large swaths of the United States yet.  So keep that in mind when you are designing stuff…some of your users may still be using dial-up or non-3G. [/end rant])
However, that changed this week.  Foursquare, one of the more popular geosocial networking sites, opened up its service to everyone – not just people who live in major metropolitan areas.  As soon as I saw that, I created an account for myself and started exploring.
Foursquare is a social network with game-like features.  Users create profiles (here's mine) and then when they visit a place (usually a business, but can be anything – including your couch!), they "check in" using a mobile device.  The more they check in, the more points they get and the more points they get, the more "badges" they are awarded.  Visit more than anyone else and you become the "mayor" of that location. In addition to getting points and badges, visitors are able to leave tips about the location for other visitors.  For a restaurant, it may be something like "order the spinach salad- it's amazing!" or "there's free parking two blocks away".
Fun? Yes.  Silly?  Yes.  Completely worthless to libraries? Absolutely not.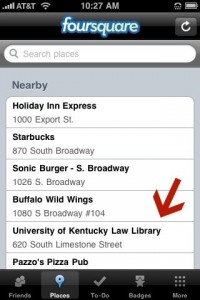 I went ahead and made a venue for my library.  Unlike Facebook where you have to be an official representative of the business to make a page, anyone can create a venue on Foursquare, so I figured that I might as well do it before a student did.   It took all of 2 minutes – I typed in the address, cut/paste some info from our website (and added a link to it) as a "tip", and added the "library" and "law library" tags.  Now if someone should try Foursquare while near the library, the UK Law Library will appear as an option to check in.  (See illustration) I'll be very interested to see if this takes off with the students.  At present, I don't really plan on doing too much with it, but I'm going to keep an eye on it.
I don't really expect there to be any educational value to come out of this. And, as noted here, it may not appeal to all patrons.  However, as an outreach tool, it has a lot of possibility.  What would hyper-competitive law students like more than to out do each other with badges?  Some businesses give special deals to mayors…maybe the library could have a special study carrel for the "mayor"? Or do a weekly/monthly giveaway drawing and every "check – in" is an entry?  And of course, if students start using the "tips", it can be used as another comment box.
So, we'll see how it goes.   Until then, I promise to not abuse my mayor-ly powers.