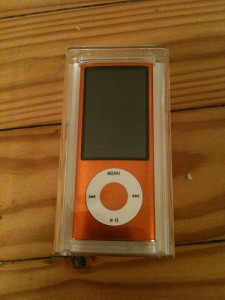 Ten days ago or so I received an email from someone at Westlaw.  It said, "Just wanted to send you a quick note… We'll be revealing the new Westlaw on Feb. 1 at LegalTech New York… I'd like to get you some information about it… What's the best address to FedEx you something?"  I sent my work address and didn't think too much about it.
Flash forward to today.
My package from West arrived. There was some paper and a nice letter from someone, the details of which I don't remember, because also included was what you see to the left.  An iPod Nano, 8GB with video capabilities, retail value $149.  I guess there's a video or something on the iPod detailing the WestlawNext features, but I wouldn't know as I couldn't bring myself to open it.
Here's the thing, y'all: I was absolutely livid when I opened this.
I've briefly mentioned before my feelings about accepting vendor swag.  It's advertising, I understand that. It's built into their budgets and it's not like they would charge less if they weren't giving out the pens.  However,  I also don't feel comfortable being a billboard for the legal information duopoly in front of my students who expect me to speak freely about the pluses and negatives of each service, so I don't accept the little gifts of pens, coffee mugs, note pads, etc.
But an iPod?  I don't really like to take pens and here they've gone and sent me an iPod?  As I said to one of my correspondents today, "this is just re-goddamn-diculous." (Pardon my language, but I was really mad.)   It does have "Compliments of WestlawNext" written on, but in super-tiny font.  It feels like a bribe, frankly.  Gross.
I guess I was expected to tweet/blog my "Thank you, Westlaw!" for it?  Well, thanks but no thanks, Westlaw.  I hate to seem rude or ungrateful, but I simply cannot accept this gift.  (1) I'm an employee of the Commonwealth of Kentucky and we have rules about the monetary value of gifts. (2) Even if I disclose the iPod receipt before blogging about the info sent to me, I still wouldn't ever feel right about saying positive things about WestlawNext.  As I said to another one of my correspondents, "Congratulations, Westlaw, you just bought my silence."  (3) My usual rules of swag acceptance are in effect, no matter how much I love the way it looks or the fact that it shoots video or that my Zune seems to be dying and ZOMG IT'S SO PRETTY AND SHINY AND I LOVE NEW TOYS.
*sigh*
So, here's the thing: I'm not keeping it.   I'm auctioning my WestlawNext iPod and donating the proceeds to an appropriate organization or two.  The details are still being worked out (my legal obligations as an public employee, whether or not my target charities will accept the donation, how to set up an auction, if other law librarians want to donate their iPods as well…details, people, details.)  So, basically: WATCH THIS SPACE. I'll have something hammered out by the end of the week.  If you received a WestlawNext iPod and would like to get in on this action, contact me at Sarah dot Glassmeyer at gmail and we'll work it out.  And if you are Westlaw reading this (and I know at least someone at West does) and you'd rather that I not do this, I will gladly ship your iPod back to you.  Seriously, I'm not trying to be rude about this.
I know my standards are higher than others when it comes to accepting swag from vendors.  I have to admit to being a little weirded out by the trip to Minnesota some of my colleagues were offered. (Of course, I also wasn't sure if there was some jealously on my part that I wasn't asked to go, so I held my tongue.  Some of us are just kinda bigger deals than others, I guess…. I KID BECAUSE I LOVE, JASON AND TOM.)   I'm not entirely sure where to draw the line…coffee mugs? iPods? Drinks at the Bender Baby Dinner/Westlaw party? Trips to Minnesota?   It not an easy line to figure out.  Where does the appearance of impropriety show up?  When does one start to feel  a little like a corporate whore?
Despite all of my cheerleading for Free Law and complaints about pricing, duopolies, etc., I really don't believe that vendors are the enemies.  But I also realize that they are in business to make a profit and that will always take precedence for them. The vendor-librarian relationship is complicated enough…..please stop clouding the issue with over the top gifts of swag.