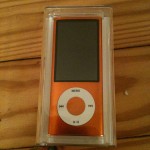 Do you want an iPod Nano, specifically an iPod Nano 8G sent out by Westlaw as part of their recent WestlawNext promotion?  Because I sure as Hell don't.
I've waited a week and I can't a definitive answer on whether or not my initial plan to auction off the iPod and donate the proceeds to charity is allowable.  And honestly? I've had just about enough hassles this week and I'm sure any money changing hands with this thing would just be more trouble than it would be worth.  I have been in contact with West throughout this process and they said it is mine to dispose of as I wish.
So I'm giving the sucker away.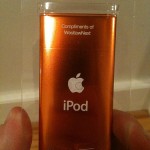 Here's how it's gonna work:  You want the iPod?  Leave a comment here with a valid email address that I can contact you at.  (Don't worry, you don't have to write it out so everyone can see it..I'll see it if you put it in when you leave the comment . You don't have to even leave your real name publicly if you want a Westlaw iPod on the DL.)  You have until 12:01 am, Saturday February 13, 2010.   At that time I'll randomly select a comment and notify the winner. I'll even ship it to you out of my own pocket.
Please note: any comment that calls me a name that rhymes with "punt" or "witch" will be automatically disqualified from the raffle and not published per my blog comment policy.
I have an iPhone, but I'm not a real expert on apple products.  I guess it's a real nifty whiz bang sort of gadget.  You can read the specs on it here. It's 8G, orange, shoots and shows video.  Retail value $149.  As you can see in the picture of the back, it does have "compliments of WestlawNext" written on it.  I guess there's some sort of advertisement also pre-loaded on it, but I haven't watched it.  I've not even taken it out of the box except to get the picture you see here.
So, free iPod.  Woo.
(EDITED TO ADD: Just to be clear, I'm going to assign each comment a number (e.g. 1 – 57) and have a friend pick a number between 1 and 57.  The winning number gets the iPod.  So you can leave your thoughts, comments, etc in addition to your name, but it really is going to be a random drawing.)