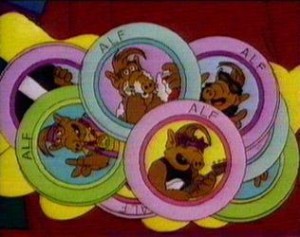 Over the past day, I've probably seen at least a dozen links via Twitter, Facebook and Friendfeed to NPR blogger Linda Holmes' recent assertion that Libraries may be the next big pop-culture wave. And just last week, spurred by Andy Woodworth, the "Old Spice Guy" made a short video promoting libraries. It even got picked up by the Huffington Post! Yes, libraries may just be having their moment as a pop-culture phenomenon. Everyone's thrilled.
Except me.
Listen, I'm really not trying to be a Buzz Killington here. I don't think there was anything wrong with the Old Spice Guy's video. Nor is there anything bad about creating and encouraging other pro-library "fluff" like a library themed Ben and Jerry ice cream (a movement also spear-headed by Mr. Woodworth, who I swear I am not trying to pick on and actually respect quite a lot), the Librarians Go Gaga video or book truck drill teams. I can appreciate and enjoy those types of things. Not everything that publicizes libraries or gets librarians excited and active has to be serious or weighty. Hell, I even participated in and liked the Library 101 video.
My fear is that by becoming just another pop-culture icon, libraries and their advocates will, in the long run, lose out on assistance and support they could be getting from people. I guess I just don't want "Save the Libraries" to become another "Save the Whales" type cultural event where everyone gets really excited for a hot second and then they move on the next thing.   Fortunately for libraries, we're sort of used to being uncool, so the shock won't be too great.
I also fear that this sort of popularity makes possible advocates lazy. For example, there are few things that annoy me more than ribbons that people wear on their lapels, cars, etc. Wearing a colored ribbon doesn't mean that you are helping to fight the battle against anything. It means that you pinned a ribbon to yourself and are letting people know what cause you support. This has its uses, but it's nowhere equal to writing legislators, donating money or volunteering time. Likewise, watching the Old Spice video and getting its YouTube hit numbers up doesn't do anything to support libraries. These are good steps to introduce people to the issues, but we need to make sure we don't leave people out on the stoop once we open the door.