Hi. For those of you just getting to this from the LDitL wiki, my name is Sarah Glassmeyer and I am the Faculty Services and Outreach Librarian at Valparaiso University School of law.   This is my day:
7:15 am – I am awakened by my alarm clock going off. This is already a bad sign for the day. I generally wake up on my own between 6:30 and 7:00, lay in a pleasant haze for a while and then start my day.  Starting the process at 7:15 means I'm going to be rushed and late for the day. So, why don't I set my alarm clock earlier?  Because I don't like to be woken to the jarring sound of an alarm clock.  It's basically there as a fail safe.
I know that makes no sense.  Listen. If this thing is going to work, you're just going to have to accept that I don't make the best life choices.
After turning off the alarm and muttering some choice profanities (and trust me, I know  *a lot* of them), I grab my phone and check my twitter, FriendFeed, and Facebook streams to see what my friends and contacts are up to and if there's been any breaking news overnight.  Additionally, I check my two personal email accounts.   That modifier is important: I never check my work email when I'm not at work anymore.  When your professional and personal life intersect as much as mine do, it's important to do what you can to maintain a real life balance.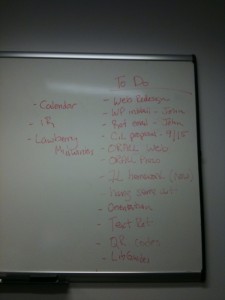 Then I do the mundane things that most people do: shower, get dressed pack my lunch and head out to work by 8am. I'm fortunate in that I'm able to walk to work.  I pop in my earphones and wait for the first song to shuffle up.  I always think that first song is an indicator of the day to come.  Today's random selection? Prodigy's "Smack my Bitch Up."  Yeesh.
During my half hour walk, I check my FriendFeed and Twitter approximately 5 times.
8:45 am – I'm settling into the office and flip on my computer.   I fire up my work email, a browser and Tweetdeck. Fortunately, work email reveals no fires to be put out.  Actually, since I'm still pretty new in my job (just started in April), my work email is still pretty slow.  I also check my blog stats.  Occasionally I write something that gets picked up by LISnews or the Law Librarian Blog, which drive a Hell of a lot of traffic (and comments) to a site.  I like to have a handle on how crazy the day is going to be.
Generally, at this point in my day, I would decide which part of my mile long to-do list I want to tackle and get on it.  However, this being Monday and also me being a little discombobulated from my late start, I decide to tackle my google reader, interspersed with checking Twitter and FF.  This is also when I finally start drinking coffee and eat breakfast at my desk.
While it looks like I'm goofing around on the Internet, and in some respects I suppose I am, I find this to be a valuable part of my day. This is my professional development time, either reading blogs/tech news sources or discussing possibilities for smart phone self check outs (an actual conversation I had today with a group of fellow law librarians) or just talking.  I generally keep my communication to email or DMs on FF and Twitter.  I find that chat services are too distracting and my friends don't really respect the "I'm actually busy" signal and interrupt me.
10:00 am – I decide that the items I'm going to check off my to-do list are (1) Contact IT to remind them about my request for a WordPress install (I'm revamping my library's blog) and to get a generic reference email which I need for some faculty services schemes, as well as for the text reference service I want to set up.  (2) Tackle the edits I have for my 1st Year Legal Research homework assignments.  Like many law librarians, I teach Legal Research to first year law students in a for-credit class.
10:05 am – I see email from IT saying that due to power outages over the weekend they have to do something to some thingamagig and we won't be able to save anything to the server until after they do it at noonish.  At this point I realize two  things.  1) IT is probably not going to be in the mood for (or would later remember) a friendly reminder from me about my help tickets, so I should shelve that plan until tomorrow. 2)  I should pull all of my assignments off of the server and save to my local machine so my edits don't get lost in the shuffle.
I set off on my assignment work, periodically checking my social networks.  I'm feeling a little under the weather, so I'm generally a little more chatty than I was today.   I'm going to try to tweet Library Day in the Life stuff the rest of the week.
11:30 am – I check back into my work email. (I shut it off for periods of time so that I don't get interrupted by it.  But, yes, I check SNSes.  What did I say about my making rational life choices?  Right.)  I am on the planning committee for the American Association of Law Libraries annual meeting.  I guess it's a pretty big deal.  So when I see emails from committee members, my heart momentarily drops.  It's been a bit of a tumultuous tenure and I was worried what the drama of the day would be.  Fortunately, nothing at all.
I also realize that I need to send in my measurements for regalia for Valpo's Opening Convocation.  As a university and law school faculty member, I participate in the institutional culture and ceremonies.  I honestly can't decide if this is a "have to" or "get to" type situation, but as I'm supposed to wear a costume for this, it probably leans towards "get to."  One problem: I need to measure my head.  It takes me a few seconds to figure out how to do this, but I decide to take the cord from mp3 earphones and wrap them around my head, mark the length with a paper clip and then measure the length with a ruler that they will surely have in tech services.  So I did that quickly and said a silent prayer that my boss or the dean wouldn't pop their head in my office while I was wrapping my head in wire.
In case you were wondering, my head is 53 cm in diameter.  Is that big? It sounds big. I have a pumpkin head.
12:30 pm – LUNCH TIME.  I eat, again, at my desk.  I try to not look or do anything "work related."  Lest you think I'm lazy, I'm not. I'm actually a work-a-holic and suffered from major burnout at my last job. I've learned – the hard way – that I need to take "me time" and to separate "personal life" from "work life" – which, considering most of my friends are librarians, is not an easy task.   So I read Live Journal and Celebrity gossip blogs for a half hour while I eat.
1:00 pm – I do a quick buzz of my google reader to pick up afternoon stories and then resume working on my homework assignments.  The going is very slow on them, not helped by my muzzy head or the fact that I find the subject matter dull as dishwater.  (But come Fall, I will make authority verification of legal materials sound like the most exciting thing EVAR in my lecture. I hope. )  Through the afternoon, I continue checking SNSes, talking with friends.  I wouldn't say that I'm a multi-tasker, but I'm just really not excited by these assignments today.  I become momentarily distracted by the idea of using Prezi for a virtual library tour and play with that for about 15 minutes. I think that the idea my have some merit and make a mental note to get back to it when I'm done with my assignments.
4:55 pm – Five minutes left in the day. I finished up one of my assignments and there wasn't time to start in on a new one.  I'm doing a 365day project where I take a picture of myself every day for a year, so I decide to snap today's pic with my desk webcam.
5:05  pm – I head out the door of the library and head home.  Generally I will not look at anything on the Internet in the evening, except for a quick check right before bed.  However, today I wrote up this blog post.
And now it's 7:27 and we're at the point where I'm typing up that I wrote this blog post and I need to stop or I'll tear a rip in the fabric of existence or something.