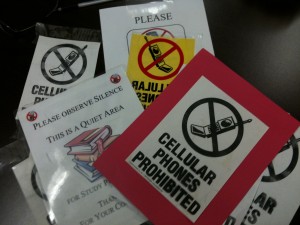 I  never thought I would care passionately about library signage, let alone write a blog post about them, but here we are.
My job title is "Faculty Services and Outreach Librarian" and I have joked that "Outreach Librarian" is the job duty equivalent of "other duties as assigned."  For me, anyway,  "outreach" includes making the library a welcoming, friendly place for our patron base.
You know…marketing.
Unlike my academic and public library brethren, when I think about marketing and the library, I don't really have to worry about getting bodies in the door.  Law students will pretty much always use the library.  Heck, they'd live here if we'd let them.
Why bother trying to make them feel welcome? Marketing goes beyond getting them in the door. Or even checking out books (especially in an academic law library where much of the collection doesn't circulate.)  I hate to break it to you, Gentle Reader, but students don't always separate the "library" from "the librarian."  For all they differentiate, you might as well be physically attached to your reference desk.
If the library doesn't feel friendly and welcoming, then the librarians don't seem friendly and welcoming. If the librarians don't seem friendly and welcoming, then the students are not going to feel comfortable asking us questions when they need to.  (Law students are already having to overcome the perceived sense of weakness by having to ask for help in the first place – let's not make it harder than we have to, eh?)  So I'm implementing alternative venues for students to ask questions and making the website more user friendly and pondering creating Social Networking profiles and revamping the blog and yes, worrying about the library's signs.   Any gateway to the library, be it real or virtual, is getting the once over from me.
So, let's talk about the signs.
The picture above is a collection of the signs I removed last week from my library's walls.   Every day, in getting from the front door of the library to my office and then to the magic coffee machine in Tech Services, I would pass by six of these.  An outdated picture of a cellphone with a giant international no sign over it and "CELLULAR PHONES PROHIBITED" in capital letters.
Granted, I have a well-documented problem with Authority and The Man, but these signs just seemed unnecessarily harsh.  I'd look at them and think, "Geez, did cell phones make fun of your mom? Did they run over your dog? Did one steal your prom date?  WHY THE HATE FOR CELL PHONES???"   Not only were they harsh, but they were also inaccurate.  We don't care if people text or play games or surf the web with their phone. (I guess there's also a chance they might be using them productively.)  All we cared about was that the library stayed quiet so that our patrons could study.
After clearing it with the Powers That Be and consulting with the library communities on FriendFeed, I came up with the following new sign….TA-DA!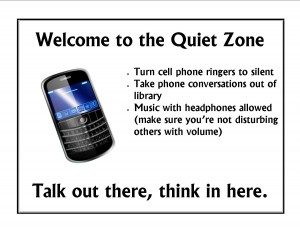 This is for the front doors of the library and there are similar ones for the restrooms, stacks, etc.  Clean, peaceful, friendly and up-to-date.  Instead of telling our patrons what they CAN"T do, we're telling them what they CAN. Plus, it accurately reflects our cell phone policy.   I am pleased.
Sometimes it's the little things.