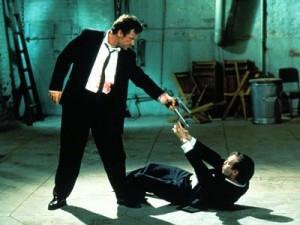 The Houston Association of Law Librarians hosted a panel discussion today on "Alternatives to Lexis and Westlaw."  As I am in the frozen tundra of Chicagoland, I did not attend, of course, but I was able to follow the tweets.
Editorial note: Since I only followed along via twitter and thus have my information second hand, I'm going to try to be very careful with language as it's not always clear when reading tweets if you're seeing someone's personal opinion or if they are just reporting what they heard.   With that being said, I don't necessarily disagree with what was said and I'm not trying to play "gotcha" when I report tweets that conflict (for example).  ETA: I also should have said that tweets have a way of oversimplifying a point made.  Please check out the comments section for Ed Walters' clarification of his point.   If you'd like to go straight to the source, the video for panel discussion appears here and Ed's comments are 10 minutes in or so, but I haven't been able to get it to load – otherwise I would have linked to it when I first composed this.
It was tweeted that Ed Walters, CEO of Fastcase, said it sends a message to Wexis when libraries renew their subscriptions even though they complain about the large price increase. (Source)  Jason Wilson tweeted that librarians need to complain more and that complaining on a listserv is not always the best choice of action.  David Curle commented that Walters was holding a mirror up to the audience, which Carl Malamud then retweeted and added the comment "they have met the enemy and they are them!"
Okay.  Got that?  Great.
Like I said, I don't disagree with the idea that complaining on a listserv is not the most efficient or useful exercise in library/vendor relations. And we need to break away from the Wexis duopoly. But pointing out what people are doing wrong (or saying that they are not doing enough) without suggesting alternative actions that would be right isn't that helpful.   So, let's brainstorm here…what exactly are we supposed to be doing?  What can we do?
Cancel all West products?  That is a romantic idea, but that's simply not going to happen.  As Kama Siegel noted, sometimes we're not the ones making purchasing decisions.  Even if we are, libraries are in the business of providing information to our patrons – in the cases of firms and corporate libraries, they do as part of a business.  We can't simply "go on strike" for acquisitions, especially in a discipline like law which is constantly being updated and created and analyzed.  Libraries can't break from West until we have a viable alternative.
I know the current situation can't go on forever, but I'm also not sure how to stop it.  Pressure from organizations? (On whom? What does "pressure"  mean?)   Consortiums engaging in an "acquisitions slowdown" and collaborative collection development?  Wikileaks our Wexis contracts? Other ideas?  Let's hear it.
ETA: I'm glad Ed clarified his comments.  As it turns out, he was oversimplified by the twitter medium.  But  even if he was being interpreted correctly, I wouldn't have really disagreed.  And this is far from the only time something along the lines of "librarians should do more than complain" has been said.  I say it myself a lot!  I really am looking for more ideas of concrete steps we (meaning librarians) can take.   The UC/Nature dispute of last year gave me some hope, but our information creation stream is slightly different than other disciplines.  (We can't ask the government to stop creating laws and the writers of most of our secondary materials don't do it for free and provide free labor like most academic writing.)   So….what can we do?