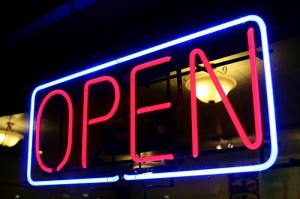 A few weeks ago, I was minding my own business and spending a lovely Winter Saturday antiquing in the Indiana countryside. The owner of one of the shops I like to visit keeps a small dog with her and the person ahead of me in line struck up a conversation about the animal. This then led to them recounting seemingly every dog that either of them had ever owned.
They began listing names and progeny in a manner worthy of a Nordic epic. I soon became bored with my eavesdropping – as any sane person would – and decided to pass the time by checking in on Twitter. Now, I generally try to avoid social media on the weekends, but this was a dire circumstance. It's sort of good that I did happen to check in because…
SWEET FANCY MOSES, ALL HELL WAS BREAKING LOOSE ON TWITTER.
I mean, not the kind of Hell breaking loose that we saw on election night. Or in the recent Egyptian crisis. Or during the World Cup. Or even when Michael Jackson died. No, I speak of the special kind of Hell that happens when you have a bunch of librarians upset at an organization or vendor. The tweets and retweets fly fast and furious, the messages get lost in the medium and soon you have the virtual version of this (1).
So. Anyway. As it turns out, this particular breaking loose of the Hell was because of an incident that happened at ALA Midwinter. Some livestreaming of a meeting was attempted and the recorder was asked to stop. Cue drama. This was also the day that the shooting in Arizona occurred, so I stopped paying attention.  For a more detailed explanation, Meredith Farkas has a summary of the situation and reactions here.
I'm not an ALA member. They don't collect dues from me and so at the end of the day, it doesn't really matter to me what ALA does. However, I think it's interesting that ALA is now starting public discussions about streaming at meetings, what does "open meetings" mean, etc. A portion of the membership have indicated that transparency and openess in meetings are important to them, the organization responded yesterday (2), and now the members are responding to this response.
We in AALL are having a bit of a transparency issue ourselves at the present moment. On Tuesday, I read via the Law Librarian Blog that AALL was holding a Vendor Colloquium meeting in few weeks. I got official word of it today via the February e-newsletter/president's thing. Here are the things that I do not have a problem with w/r/t this upcoming meeting:
The venue – Sure, it's a little fancy. And yes, we are in a time of economic crisis. But what are the other options? A Motel 6 by the airport? I personally don't mind if AALL wants to spend a little money on a nice venue when they host events so that we don't look like a bunch of rank amateurs. Hopefully (and this is a point that will also come up later) AALL will release the financials so we can all see how much of our money was spent on it.
The attendees – I wasn't invited. That's okay. The format looks to be a lot more interactive than I would feel comfortable doing. However, (and this is a point that will also come up later) that doesn't mean I'm not interested in what's happening at the meeting. And, sure, I can think of a couple of people that I think would make interesting contributions to the event that didn't make the list, but everyone on the list seems to be well qualified to be there and I'm sure that they will all make valuable contributions.
The format – As I said above, not a way I would want to spend a day, but as I think my participation in unconferences show, I believe there is a lot to be said for getting a bunch of people in a room and seeing what kind of ideas shake out when they are allowed to have free form discussions. Having a professional facilitator is a good idea.
The timing – Yes, it could be tacked onto the beginning or the end of the Annual Meeting and save some travel money and allow for more open attendance, but perhaps there is a reason for doing it this early – for example, perhaps they are hoping for a document to be created as a result of this to be presented at the meeting. Also, the Annual Meeting is crazy enough – for librarians and vendors – so maybe they thought to give participants the opportunity to direct their full attention to the colloquium.
So, what's my problem?
Just one, really. But it's a big one.
I see no reason why I (and all other AALL members) are being shut out of a meeting paid for with our dues monies and done for our benefit. It's not like I'm asking to actually attend or have my opinions stated in the discussion. As a practical matter, it would be impossible for the thousands of AALL members to physically attend and I am confident that the selected librarian representatives can adequately represent me. I must admit, however, that it would be nice to have been polled as to what sorts of things I would like the librarian avatars to tell vendors – it's entirely possible that this has happened and I missed the email or it's forthcoming.  (ETA: I have been informed that messages did go out over SIS listservs in November and I missed them.  So everyone did get the opportunity to participate that way.)
All I'm asking to know what happens at the colloquium. Exactly what happens. Not a second hand summary live blogged or a later recollection written by a participant. I want a straight, unfiltered accounting of what happened. And I say this will all due respect to Mark Estes who will be providing the official blog of the proceedings. I'm sure he will provide the best blog possible. But it (and later accountings) will still all be filtered through the author's experience of the event. Nuances can be missed, comments misheard…all humans are fallible and it can't be a perfect recreation of the event.
Considering AALL has advocated repeatedly for authentic information sources in other areas, it's pretty weird that they'd be okay with an imperfect record of such an important event, isn't it?
So what do I respectfully request of AALL? In a perfect world, I would like the entire event to be livestreamed and recorded for posterity. However, I do understand that some people may be uncomfortable with that and it could inhibit frank discussion during the "dialogue" portions of the day. But why can't the opening remarks from Roberta Shaffer and the portions of the agenda labeled "presentation" be streamed/recorded? I think those are all pretty straight forward events and recording them wouldn't change the material presented.
If that's not possible, I would like a transcript of the presentations and copies of any presentation materials posted on AALLnet for the entirety of the membership to peruse. Again, this may be in the planning, but if it is, it hasn't been announced. If nothing else, perhaps – as is happening with ALA – this will start a dialogue between the membership of AALL and the people that we have entrusted to operate it for us about the openness we would like to see in future events.
I've planned events before and I know it's pretty much a thankless task. I do want to take the opportunity to thank the planning committee for the work they did planning this Vendor Colloquium. It looks like it's going to be a great event. I'm just saying it could be better and that more people should be able to experience it.
(1) Just to nip a possible misinterpretation in the bud here, I don't think there's anything wrong generally speaking with publicly complaining about or trying to engage an organization or vendor on Twitter or some other public venue. HOWEVER sometimes things do get out of control and/or some situations may be better handled privately. Do what feels right to you.
(2) Rating the quality of this response is not for me to say.