I have returned from my first (but not last) SLA annual meeting.  The conference is still continuing, and as I write this, the famous – and infamous – IT division dance party is going on.  I had to leave for CALI, but I really wish I could have stayed.  Some thoughts…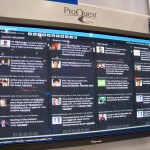 SLA is BIG.  I don't have exact numbers, but according to an unofficial number I heard,  there were about twice as many people there as there are at AALL.   It could have easily been overwhelming.  Actually, it was a little overwhelming at first.  I never did make it through all the programming listings.  SLA members were very friendly and it was easy to find a community within the masses of people…and I didn't even do too much with my divisions (legal and academic.)  I have to admit that I am very fortunate in that I come from a state with an active chapter and I knew a bunch of people going ahead of time,which does help.
SLA is DIVERSE. I'm not talking age/gender/race diversity, although that was in evidence.  (And the Hipster Librarians were thick on the ground.)  I mean that the "special library" umbrella is a big one.   SLA has dozens of chapters, caucuses and divisions covering a wide range of libraries and librarians. (Including the newest division…academic libraries.  It's going to do some awesome things.) I find it really interesting and useful to see what other libraries and librarians are doing…it can be very easy for a speciality like law libraries and law librarians to become myopic and miss out on possibilities if we don't talk to others.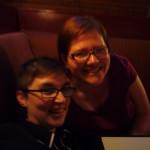 SLA members like to party.  I'm not talking about getting drunk and running through the streets of Washington, DC yelling "WOOOOOOO!"   (I would have said "par-tay" to designate that. )  I mean that there are a ton of social events.  A TON.  And I honestly believe that the type of networking that occurs at these sort of things is just as important as the stuff that a conference attendee gains from a traditional meeting.  On a even more practical note, there is lots of free food and drinks at these things.  For a young librarian in the big city on a budget, that is important. This is me and my friend Kendra K.  She's a transportation librarian from California. DIVERSITY OF CONTACTS… I HAZ IT
Washington, DC is HOT in the SUMMER.  That one I actually already sort of new, but it's always shocking to be reminded of this fact. AALL (also in DC) next month is going to be even worse.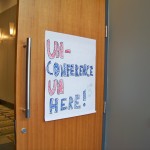 UNCONFERENCES are FUN.  I spent most of my time attending unconference sessions. From what I understand, these were a new addition to the SLA program this year andI really hope that they continue the practice.  I attended three sessions and each was a little different.   The first one actually ended up being an unconference about
unconferences
. (How meta!)  The second had  "tweet-up" theme and we spent the time talking about integrating social media into our jobs and the issues related to them.  The final one…well, I don't quite know what was going on there.  It was more structured and was designed around "knowledge management" so I was pretty lost through the conversation.  Fortunately, there is something in Unconferences called "
the law of two feet
", so I left.  My unconference photos can be seen
here
and watch this space for more info on unconferences very soon!
So that was SLA. Next up…CALI!