I have this recurring nightmare that one of these days I'm going to hit submit on a blog post and a tweet that says, "Congratulations, Sarah! You have unlocked the RABBLE ROUSER achievement badge on Legal Information Bonanza!" will be auto generated.
I don't think of myself as a rabble rouser. Or a revolutionary. Or a force of nature. Or a hero. Or a rockstar. Or an obnoxious bitch. Or a petty amateur. Or unprofessional. Or hysterical. Or any of the other labels or names that people have applied to me in the past year or so.
I'm really not angry or confrontational. People always seem surprised when they meet me in person. "YOU'RE Sarah Glassmeyer?" I've mostly gotten over my initial inclination to apologize, but I can't help but feel that people are somewhat disappointed at my countenance and demeanor. Maybe they expect me to whip a WestlawNext t-shirt out of my bag and light it on fire?
Long story short, there's nothing really extraordinary about me. I just speak my mind. Granted, I have my own website to do it on, but it's the 21st Century….anyone can have a blog. I guess my question is: why is the mere act of stating one's opinion about vendors, professional organizations and the profession considered so radical? Why are so many librarians hesitant to speak their mind? It's not just me wondering it. I spent the first part of this week in Chicago talking to vendors and legal info types and I was asked that very question on more than one occasion.
Sarah Houghton-Jan briefly mentioned some reasons why librarians may not do it. I agree with those reasons, especially the fear of vendors and the disinclination to hurt peoples feelings. Why do I do it? In my more self-deprecating moments I say, "well, I'm almost six feet tall, built like a brick shithouse and I have red hair. Blending quietly into the background was never in the cards for me." But honestly, why NOT do it?
I reject the idea that dissent automatically equals disrespect. If you are coming from a place of honest belief and have done the due diligence to back your beliefs up with facts, why not state your opinion? Giving and receiving constructive criticism is a baseline professional skill. There's a poster (often seen in librarian offices!) that says "Your poor planning is not my emergency." Well, similarly, I think there should be one that says, "Your over-sensitive nature is not my personality problem." Alternatively, I refer you to LibPunk Mentorship Rule 5.
On the other side of that, being polite doesn't mean that you are a pushover. We can (and should!) have frank, unemotional and polite conversations amongst ourselves and between the various stops on the information distribution chain (content creators, vendors, publishers, librarians, etc.) about the biz. Because it is a business. And maybe – just maybe – also treat them as colleagues instead of considering them to be enemies. Guess what? I had lunch with a vendor on Monday. And had drinks with another on Monday night. MASS PANDEMONIUM. DOGS AND CATS. LIVING TOGETHER.
I also don't want to diminish people's fears about the perceived threat of retaliation from vendors, but can someone (either privately or in a comment here) actually remember an instance of it happening? What form of retaliation is expected? Higher prices? Personal attacks? I had a co-worker who always wanted proof of everything you said. So if you casually mentioned, "Oh, I heard that people are suing Nintendo because they keep throwing their wii controller through their TVs." He'd say, "Prove it. What's the case name?" Which was annoying, because I don't source & cite my casual conversations. But he did sort of have a point that people tend to just accept what they hear without giving it too much careful thought and maybe change behavior when they don't have to. So I would just like some evidence that vendors do retaliate against librarians that speak out. Otherwise, we might as well be telling each other that if you go into a dark bathroom and chant "Jenny Westlaw" three times, she'll appear in the mirror and kill you.
One of my favorite movies is the musical 1776. As one might guess from the title, it's about the writing of the Declaration of Independence. One of the big plot twists is if Congress will even debate the issue of declaring independence from Great Britain. Not actually do it, just talk about it. Stephen Hopkins, the crusty representative from Rhode Island says, "Well, in all my years I ain't never heard, seen nor smelled an issue that was so dangerous it couldn't be talked about. Hell yeah! I'm for debating anything." And that's sort of how I feel.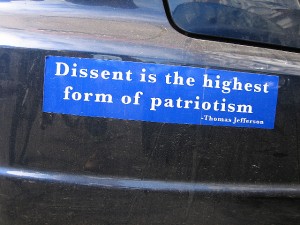 Photo credit:http://www.flickr.com/photos/wemeantdemocracy/