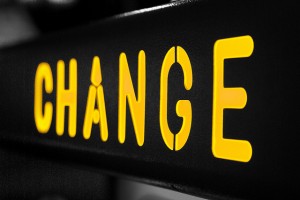 I heard the most wonderful idea recently: Change happens in the gerund.
For the non-English majors out there, a gerund is basically a verb that ends in -ing. It's usually combined with a form of the verb "to be", which makes it a present participle. Present participles are used to indicate an action that is incomplete.
So to say that change happens in the gerund means that things don't change, they are changing. Have been changing. Will be changing. It's not enough to say that, for example, "libraries have changed" or "patrons have changed" or even that "libraries/patrons will change." It's better to say that "libraries are changing" and while you're at it, acknowledge the fact that this is a process with no beginning and no end.
Not everything changes, of course. For example, dead things don't change. And, um…that's about it, really.
Fortunately, the industries that I am most connected to – libraries, education, law and technology – are not dead. As a matter of fact, all of them are currently in a period of massive change. So much change, in fact, that it seems like maybe all this change is new and pretty soon things will settle down and we can all relax.
Nope. Not gonna happen.
Sorry.
When you accept the idea that change happens in the gerund, you realize that you should never see change as a problem because if you do, you are setting yourself up for a life of disappointment. Why? Problems can be solved. Change as a problem can never be "solved" because there will always be more change happening. However, if you think of change as merely "a difficulty" or "a challenge", then you are mentally braced for the work ahead without deluding yourself into thinking that you will ever be finished.
The goal post will keep moving. The issues you resolve will cease to be important and new issues – some of which you can't even fathom at this point – will arise. You will never be "done."
Change happens in the gerund.
Photo credit: http://www.flickr.com/photos/spursfan_ace/