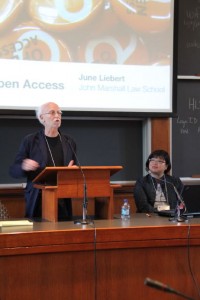 (Part One of this two part series appears here)
I recently attended "The Future of Law Libraries: The Future is Now?" workshop hosted by the Harvard Law School Library and the Berkman Center for Internet and Society.  Even though it was only one day, there were too many things discussed for me to adequately cover in this post. Fortunately, John Palfrey, host with the most and Henry N. Ess III Professor of Law and Vice Dean for Library and Information Resources at Harvard Law School live blogged the proceedings here. The event was also video recorded and tweeted – you can find those media as well as other relevant materials on the program's website.
Although the program was about "the future", for me the day was almost a master class in the history of American law libraries. So many greats of the profession were there, either on the program or in attendance – the names of which I'm not even going to attempt to list out of fear of missing someone, but you know who I mean. Which brings me to theme one of the day, which I tried to emphasize in my portion of the program…
I like talking to more experienced librarians. Obviously, there's the "not taught in books" skill sharing one can get – for example, the best way to wake up a suspicious looking patron that's sleeping or possibly dead in your reading room. But honestly, a lot of those you learn on the job from your more experienced co-workers. What I really enjoy is hearing the more social stories from them, when Great Names and Institutions have a more human face put on them. And it's not to say that these stories aren't professionally valuable. It's usually within these stories that one learns about the previous issues and controversies that consumed librarians in the past.
One thing that I have found lacking in both my legal and library educations is the enculturalization that other academic disciplines get in their graduate education programs. As I unfortunately phrased it to the traditional teaching faculty participants during my Cambridge retreat, "You guys are lucky – you're taught to be academics." Um, that did not go over well. Score one for the famous Sarah Glassmeyer Charm.
Here's what I mean: for example, my sister holds a Ph.D. in environmental chemistry. (She works for the government, though, not in academia.) During her graduate education, she worked closely with an advisor and a group of co-advisees. Adorably, such relationships are often referred to as academic parents and academic siblings. There's also cousins and grandparents….and chemists, at least, are able trace back their lineage from advisor to advisee several hundred years. Every year at the big chemistry nerd conference, her advisor has a dinner for all of his current and former advisees. The total effect of this is that when they enter professional life, they have a fully formed professional and social network (the original kind – not the poke/throw sheep at each other kind) waiting for them. And it is also though this close advisor/advisee relationship that a newer graduate student can begin to learn the history of and behaviors appropriate to their specific discipline.
Contrast that to either law or library science. The law school experience is not appreciably different for those going into academia, practice or an alternate career. And MLS programs? They too have little delineation based on future careers and more often than not feel like a trial similar to getting a union card rather than an opportunity for the creation of professionals, let alone academic professionals..
So, what to do? Of course there are programs such as University of Washington and Arizona which have MLS programs with law library concentrations and I assume cover some of this, but not everyone can go there and for some of us, that horse long ago left the barn. It would be nice for there to be formal programs offered by professional organizations or libraries – such as the retreat I went to with my coworkers or this Harvard workshop day – to fill in some of these gaps. The newer librarian is also going to have to take some initiative to find these things out for themselves. But, speaking as a newer librarian, it's hard to know what you don't know until you realize you don't know it.
For example, mixed in with all the names I recognized at the Future of Law Libraries event were some names I didn't quite recognize. So I googled them. The professional biography of one made me yell, "Oh SHIT." at my computer. PROTIP: Not all of the Great Names and Pioneers have their name on a legal research casebook nor do they have a giant neon sign over their head that says, "I've been doing awesome things since before you were a twinkle in your father's eye so listen up." I suppose I should have taken their presence at the workshop as a sign that they were someone important, but then again I was there and I'm, well…me.
I don't know that I have a perfect solution, but I am now collaborating on a scheme that will hopefully alleviate some of the ignorance that younger librarians such as myself have about the history of our profession as well as preserve it before it's too late. Rich Leiter had the idea of creating a StoryCorps-like collection of law librarian tales and together we will hopefully make this happen. We want to record short (~5 minute) stories about the people, places and events that have shaped the present and will shape the future of law libraries. So stay tuned to hear more about that as details emerge.
There were two other strong themes through the day: (1) Libraries can't act alone, and (2) in the future, we're going to look back at many present controversies and wonder what the big deal was. One of the things that I really appreciated about the day was that the speaker list wasn't composed of all law librarians – there were technologists, teaching faculty (both from law and other disciplines) and other types of library administrators. (Although it was not as diverse as it could have been. See Greg Lambert's critique – which I agree with – here.) The law library world cannot remain insular and hope to survive. There are projects that libraries can and should collaborate on and, frankly, some really great ideas to steal.
This is such an exciting time for legal information…the time is foreseeable that no longer will a limited number of companies control the publication legal materials. I don't just mean primary law. A second front in the Free Law War is opening up with the open publication of secondary materials such as journals and casebooks. Henry Ford once said, "If I had asked people what they wanted, they'd have said 'faster horses.'" The relative ease of electronic publishing means that there are people and organizations out there that are looking to find solutions beyond "faster horses" and creating something more sophisticated and creative than just an electronic copy of a traditional print resource. Libraries and librarians must choose to work with them and lend their expertise to these endeavors or be left behind.
So that's really just a brief glimpse at what was such a personally and professionally rewarding day. I'm very grateful to John Palfrey and the organizers for inviting me to attend and participate in the event. I'm hopeful that some of the conversations that we started at Harvard will continue on into the future and I'm very excited to see what sorts of things the future will hold.