I love being a librarian.
Some of it is because of the big picture/honorable professional stuff that I frequently blog about here. But honestly, I really love the day to day: staffing a ref desk, hunting down a hard to find piece of information, working with law students…Not only do I never wake up in the morning dreading going into work, but I often am really looking forward to it.
So it is with very mixed emotions that I announce that very soon I will no longer be a librarian.
At least not the kind that works in a library.
If I'm timing this right, John Mayer, the executive director of the Center for Computer Assisted Legal Instruction (CALI) has just announced that starting August 15, I will be the new Director of Content Development for CALI. This is definitely an unexpected and unplanned development in my career, but one that I couldn't be more excited and thrilled about. It's not every day that you're offered a job that will give you the opportunity to change the world and, knowing some of the projects that CALI is working on and the possibilities of what it can do, well….I really think we can make a difference. Definitely in the way future lawyers are educated, but also in how regular citizens have access to justice and legal materials.
When John offered me the job, he was almost like a combination of Morpheus in The Matrix and The Godfather.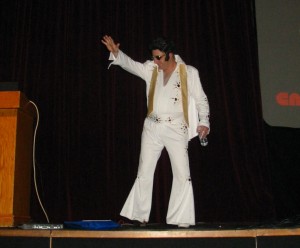 I realized that I could continue on my safe library career path, enjoying my job and wishing some things in the legal information landscape would be different OR I could take a bit of a leap of faith, alter my plans and spend my time actually making the products I think are needed instead of waiting for them to happen. As you've probably noticed, Gentle Reader, I really like quotes. One of my all time favorites is from Ghandi: "Be the change you want to see in the world." I really think this position will allow me to do that. And, in the end, that was an offer I couldn't refuse.
Although I am not going to be working in a library, I still will always consider myself to be a librarian. I'm just literally putting my money where my mouth is when it comes to all of my talk about how libraries and librarians should work and collaborate with technologists and other related fields. It's definitely going to be a different environment and the new freedoms I'll have to create and explore are a little breathtaking. The CALI crew are also just a lot of fun to be around. As I told John after I accepted the offer, I feel a little bit like I'm running away and joining the circus.
So, this is a big step. It's exciting and scary and, yes, even makes me just a little sad. I'm sure there's a German word that encapsulates all of these emotions. But you know, I have always believed that life is meant to be lived to fullest and that you should try new things and take big risks – otherwise you're just taking up space and counting down the clock until you die. And that's such a sad waste of a life. I dunno…maybe I was the only kid that was actually listening when they read that Robert Frost poem at graduation.
This isn't just a big professional step, but a personal one too. I'll be moving to Chicago, which is slightly different from Valparaiso, Indiana. You know, just a little. So I'm also very excited about the opportunities for adventure that living there is going to provide. I'm a bit of a country mouse, so I am a little nervous, but in my house hunting adventures I have already learned the secret to driving in Chicago: Don't think about your insurance premiums and just gun it. Which I guess is sort of the theme here.
So. Lots of changes happening in the next month. My last day at Valparaiso is going to be July 29 and I would be remiss if I didn't also include a big THANK YOU to all of my colleagues here who have been so much fun and valuable to work with. I am so sad about leaving them and this beautiful place.
But…now on to a new adventure.