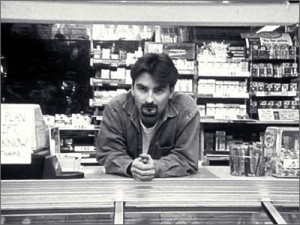 (I'm a much better writer than public speaker, so here's the text of my planned opening remarks delivered during AALL2011 Program H4: The Role of Law Libraries in Advancing Law.gov: Open Sourcing America's Operating System.)
Hi. I'm Sarah. I'm am not supposed to be here today.
One of my favorite filmakers is a man named Kevin Smith.  He was part of the big indie filmaking wave of the 1990s and his first film was a low budget movie called "Clerks." It took place in a convenience store, not unlike 7/11s that Mr. Malamud suggested law libraries might turn into to last month at Harvard.
If you've not seen it, it's a comedy. The main character – Dante – gets called into work on his day off and you know, hijinks ensue. Through it all, he has a catch phrase…"I'm not supposed to be here today." I sympathize. I really am not supposed to be here today. I'm a last minute sub for this presentation and I could never fill Erika Wayne's shoes, but I'll try.
But that's actually not why I bring up Clerks and the whole "I am not supposed to be here today" thing. I get the feeling that – when I talk to some other librarians about law.gov (and perhaps this is a feeling shared by some of you here today) that they think "I am not supposed to be here today." This is not my job. Why are we even talking about this at AALL?
Some actual comments:
It's pointless to even worry about it until the state and federal governments step up
I can barely get my day job done. I don't have time or money to work on law.gov
law.gov will never be able to compete with Lexis and Westlaw (so again, why bother)
will firms even need librarians/research specialists any more if law.gov becomes a reality
The next time Malaumd tells me to scan something, I'm scanning a picture of my butt and faxing it to public.resource.org
(Okay, that last one might have been me.)
(I was having a bad day.)
(I really do respect Carl Malamud and all the work he has done and continues to do.)
(Really)
It's absolutely true that library staff and budgets are stretched to the breaking point. And law.gov will never be a complete substitute for commecial providers. But before getting bogged down in the can'ts and won'ts and why things won't work, I think it's necessary to step back a moment and realize what law.gov is.
I think when I first heard the concept law.gov I thought it meant that the government would put up all the codes, cases, regs up online with a nice pretty interface that people could easily search. I maybe be moving to Chicago, but deep down I'll always be a hillbilly from Southern Ohio and I have a strong feeling that this is the Godddman United States of America in the 21st century for god's sake…there's no reason that citizens should not be able to access the law via the Internet.
However, the more and more I got into it, I realized that it wasn't that simple. law.gov isn't just law.gov and the work that Mr. Malamud does at public.resource.org.  I actually like to refer to it as "Open Law" just so there's no confusion. it's authentication, and nccusl, and state surveys and preservation and digitizing collections..  It's really about the government to release the raw data and information – which we already own, after all – so that others can make it into something useful.
So law.gov is actually a whole host of things and  it actually gets a little overwhelming. One starts to think that yes, this is an impossible task
I mean, don't get me wrong..it's going to happen. To deny this fact is to be a heliocentrist in the time of Galileo. It may take a little longer without the assistance of libraries adding to the corpus by digtizing their older holdings or might not be as stable because no one was able to convince a certain state legislature about the proper procedures to take when mounting their laws online. but rest assured, it is going to happen.
And this is a good thing. I'm into it because of the rah rah this is 'murica goddammit reasons, but other people will tell you that by releasing this data non-profits and smaller information distributors can innovate and come up with exciting new projects and new ways to do research. And there may in fact be  an economic bonus to the legal industry and libraries if primary law is made more open.  Here's the thing. I don't care why you get involved, but please get involved.
Okay, so I don't get all bogged down in language, as I tell my students, here's the take home message from my opening statement.
1) open law is coming
2) librarians need to be involved because we care about the stuff that everyone else thinks we're crazy to care about.
3) and remember when I was saying how overwhelming the issues surrounding open law are? well that's a good thing. Because that means that there are thousands of ways to be involved.. but there's one thing to note: there's no real leader. So if you're waiting for AALL or SLA or the government or Harvard or someone like Carl to say "here's the plan, gang. you do this and you do this and it will get done." That's not going to happen. You have to just sort of jump in.
4) And yes, "just jumping in" is not an easy task.And it'll be messy and probably not a perfect first (or second or third) attempt.  So if you've thought about it and decided that either this issue isn't important to you for either personal or professional reasons or you really don't have the time or resources…okay.  That's fine. You know, I'd rather shoot myself in the face before spending any amount of time talking about RDA.  We all have different things that light our fire.  But nothing is gained and no one is helped by simply pointing out that something is not going to work. I think I saw a tweet saying something similar in an earlier session during this AALL…dont' say "that's stupid" but instead "here's what would work."
So, basically, I encourage (and beg) you to see where your talents can be applied in the open law movement and join in.  And if you can't, well…stop your bitching about it.
An addendum about Kevin Smith, the film maker I mentioned at the beginning of my remarks.  He's actually getting out of the movie business. He likes to make little 2-3 million dollar movies and once you roll in the marketing budgets that studios require the economics just became stupid.
He's currently promoting what he declares to be his second to last film by travelling around the country in a bus and doing one off meet and greets and showing the movie in independent theaters. Not an easy task. And when he came to Chicago, I jumped at the chance to go see the movie and hear him speak.
He told a story about being at south by southwest in the mid to late 1990s and he was on a panel with Quentin Tarantino, and Robert Roderiquez and some other of the big indy directors. Tarantino asked the audience "how many of you want to be film directors?" and of course almost everyone raised their hand . And then he asked, "how many of you want to be film distributors?" and no one raised their hand. And Quentin said that people need to get into the distribution business because if film and film distribution is taken over by impersonal corporations instead of by the people that love it and respect it as an art form, then the art will be driven out of the industry..it'll purely be about profits. And that is sort of what happened to Kevin Smith and why he's no longer going to direct fillm but look into alternate ways of distributing film and other ways of expressing his creativity.
Now, it's not a perfect parallel between the film industry of the 1990s and the current legal information landscape, but it's close enough. And as you'll see, I think we might have to start to get comfortable with the idea of "good enough" and so I bring it up as a way of suggesting that we need to brace ourselves..we (as librarians) may have to get into the content creation and distribution business whether we like it or not and whether or not we feel like it's our job. There will be no more "I'm not supposed to be here todays."
Thank you.
Photo credit: http://kevin-smith.wikia.com/wiki/Dante_Hicks