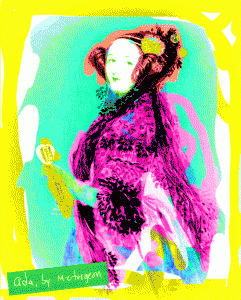 October 7, 2011 is Ada Lovelace Day, an annual celebration of women in the STEM disciplines.  It was created after a psychological study showed that women need role models to believe that they can do something.  I love this day.  Obviously, it's a lot of fun to give props to people and tell them how awesome you think they are, but it's also so so SO necessary.
Women have been involved in the sciences for years – it's just that they haven't always gotten credit for their contributions.  (See: Franklin, Rosalind) (This is also true for many things before mid-twentieth century, not just science, of course.)  Cultural expectations have also discouraged girls from thinking that they can do science and math. Everyone knows about the Barbie that happily chirped "Math is Class is Tough!" but that was almost 20 years ago. Things have changed, right?  Nope.  Just this year JCPenney sold a t-shirt aimed at pre-teens that proudly proclaimed, "I"m too pretty to do homework so my brother has to do it for me."
*twitch*
(One day a defense attorney is going to try to excuse my actions because of temporary insanity.  Don't listen to them.  I did that shit on purpose and enjoyed every minute of it.)
Here's some facts, as laid out by Shankar Vedantam: Less than one in five professors of science and math at top research universities in the United States is a woman. The gender distribution of engineers at top Silicon Valley companies is similar to the gender distribution of the audience at your average strip club.  Well, okay then.  So on Ada Lovelace Day we try and point out women that have achieved (and are still achieving) great things in the science and technology fields in the hope that it drills down through the noise and more little girls grow up to become happy nerds.
In my little corner of the STEM world – library and information science – it's always been easy to find women pioneers and successes.  Librarianship, after all, has always traditionally been a "woman's job."   That being said, back when I was a librarian, it was always surprising to me how often I was still the only woman in a meeting, especially when the meeting involved "techie" stuff.
Now my career has shifted slightly and I'm more involved in the tech world.  It's definitely a more masculine environment, but there are still plenty of women to admire and who deserve a kudos.  Off the top of my head I can think of Courtney Minick and Cicely Wilson from Justia, Sara Frug from LII, Erika Wayne from Standford and my colleague Deb Quentel from CALI.  Actually, up until early this week, I've been planning on doing a sort of "Women of Free Law" post for this year's Ada Lovelace Day.
(Yes, I realize now that this title sounds like a cheesecake calendar or a playboy spread.)
I changed my mind about this post when I got an email report of a Sarah Glassmeyer fan spotted in the wild.  I get the occasional fan letter, but more often than not friends and colleagues tell me about the nice things people say about me.  It's always sort of weird when this happens since I don't really think there's anything that special or exciting about myself  but I am always very touched and flattered when it does.
It also worries me a little.  While I agree with the premise of Ada Lovelace Day and that it's great to have role models (like I said, I definitely have some) there's a danger when you start to put people on pedestals.  You start to think that your heroes have some sort of special talent that only the gifted few get that have allowed them to achieve what they have.  Mere mortals like yourself couldn't possibly do what they do…and so you don't even try.  As someone who is called a "hero" and  put on pedestal (and again, thank you so much!), lemme tell you…it's really not that hard to be a hero.  If I can do it, anyone can.
So here's my thought for Ada Lovelace Day….Be your own hero.
Figure out who you are and what you believe in.  Learn to like yourself.  Get involved in the things that appeal to you.  Spend your days doing things that make it easier to go to sleep at night.  Anytime anyone asks you "why" reply "why not."   Don't do anything  to win friends or awards or to become "famous."  Anything given to you can be taken away and besides, external validation is for pussies.  Never compromise your beliefs or lose your self-respect.   Be your own hero.
Photo credit: http://www.flickr.com/photos/m-c/