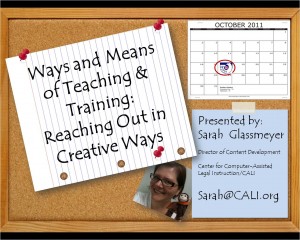 In an alternative universe, I'm a Gov Docs librarian at a large state school turning young minds onto the joy of statistics and 1950s government created comic books about how to deal with nuclear war fallout and communists.  But this is this universe. And I'm me. And the closest I get to come to that is that I get to present to a bunch of government document librarians at the 2011 Depository Library Council Meeting and Federal Depository Library Conference.
That is a mouthful.
As I will promise during my part of the presentation, my slides are available here and the resource list can be found here.  And I'm always happy to answer questions about – well, anything really – but definitely and specifically about the things I cover here.
This is my first presentation since I joined CALI and I am a little nervous about coming off as a vendor shill.  Especially because I will be discussing some of our products during my presentation, but let me just assure you of a few points. (1) I would have talked about them anyway. (2) You don't have to really buy anything from CALI to use them.  Everything is CC licensed and you are totally free to take and adapt the content.  So not only am I not saying, "Please buy this." but instead I'm saying, "PLEASE STEAL THIS IDEA AND RUN WITH IT."
Another question is "why am I doing this talk?"
There are a couple of good reasons for gov docs librarians to think about being more creative in their outreach.  First of all, I know that gov docs are totally weird and interesting and full of buried gems and you know that but most patrons hear "government documents" and they have a similar Pavlovian response to when they hear "tax forms" or "DMV visits."  So you need to do a little extra marketing.
Likewise, and this is especially true in the higher educational setting, other librarians finally get students used to how libraries work and then we throw them a curve ball with SuDoc numbers and different circulation rules and probably some weird formats to boot.  I remember when my sister – who holds a PhD and it otherwise familiar with the whole library research thing – recounted her visit to the gov docs department at her grad school.  It can be summed up thusly:  "WHAT THE HELL WAS THAT? There were slashes and colons and nothing was where I thought it would be."  So you need to do a little extra patron education.
And finally, you should reach out and be more creative because you can.  Now, don't get me wrong, I am not one to do the "let's play with technology just because it's there and we can." Well, behind the scenes I'll do that, but I don't like forcing my alpha tests on patrons.  What I do mean is that technology has become much more accessible and patrons expect to be able to use it in library settings.   And again, I am the first to beat the drum of "don't forget that not everyone has access to tech" – don't forget, y'all, that I did live in central Kentucky for three and half years – but that doesn't mean we can't also cater to those that do want to use it.   Especially since many government publications are now being published in an electronic format that makes it much easier to play with.
The next part of my talk covers wikis and WordPress.  I mainly just talk about them as a back up in case you don't have editing privileges on your website.  Alternatively, if you have a subscription to a service like LibGuides, that will also work.  Wikis are great if you have no tech skills beyond that which is needed to run a word processing software and don't have access to a server to host it.  You can lock them down from editing and make them even password protected for privacy.  Some wiki companies that I've used and had success with are: PBWorks, Wikispaces and Wetpaint.  If you have the ability to host your wiki, wikimedia (the software used to run wikipedia) is a good bet, but I must admit that I  have a bit of a love/hate relationship with it.
Oh, this would probably be a good time to mention that – aside from hosting costs if you decide to go that route and need to buy it – pretty much everything I talk about is totally free.  Times are tough, yo.
WordPress was originally developed to be a blogging platform.  It's open source and has a vibrant development community (many of whom have an educational bent) and that means that there are tons of little tips and tricks available to bend it to your will.  They come in the form of themes, plugins and widgets and using them is really pretty easy. I'm talking push a button that says "install" easy.   You can either use free hosting from WordPress.com (which admittedly won't let you go completely buckwild with the adapting, but it is very easy to use) or download the software from WordPress.org and host it yourself.  Also note that if you work for a university, it is entirely possible that you have access to what is essentially a mixture of these two called WordPress Multisite. (CALI's Classcaster Blog hosting [which if you are at a CALI member school you are totally free to use] is a WordPress Multisite system.) Check with your campus IT department for detail.
The third stop on my tour of reaching out creatively is mobile technology.  A lot has been made of this in recent years and for good reason…almost everyone has a cell phone now, if not a smart phone.  And along with those,  you should also consider tablet computers like iPads to be part of the mobile bunch.  I promise you won't have to make an app. I wouldn't even know how to tell you to do that.  But I can tell you a couple of things….(1) you may have to think about making a mobile version of your site.  There is a WordPress plugin that automagically can tell if the viewer is on a smartphone and adapts the page accordingly.  Or you can pester your webdesign team to create a basic mobile ready site and have prominent link to it on your webpage.  (2) Exploit the strengths of these devices…they have cameras usually and there are free apps out there that you can use.  And finally, (3) always remember to be device agnostic.  Meaning, if you do go down the app creation path, try to make them iPhone, Android and even Blackberry compatible.   And don't use flash on your websites, as iPhone and iPad users can't view that.
Now it's time to bring it on home.
Okay, we have a website.  One you created especially using a wiki, wordpress or LibGuides or one already in place like a research guide on your library website or a government agency webpage.  And we know that a lot of patrons have smartphones or tablets.  An easy way to get the website on the phone or tablet is via something called a QR code.  (I don't wanna brag or anything, but I blogged about these things two years ago.  Sarah Glassmeyer, FUTURIST. heh. Anywaaaay….)  QR stands for Quick Response and they're basically like a barcode on sterioids.  They can contain information like URLs, phone numbers, email address, virtual business cards, etc.  Basically, you take a picture of them with your phone or tablet and then magic happens and the next thing you know you're looking at a website or have an email ready to compose.  QR codes are free to create and there are dozens of free reader apps out there for patrons to download so that they can read them.
I really think Gov Docs libraries would be a perfect location for using QR codes.  Some ideas:
Post them around with your reference contact information (phone, email or text reference – and don't have text reference? Get a google voice number and you can send and receive texts from it via email.  Living in the future is awesome, ain't it?)
Put them on a book dummy at the end of a resource if it goes from print to electronic and have it direct to the site of the electronic version. Commerical vendors are making their databases more mobile friendly, so you could also link to the electronic version.
Send it to a subject specific resource guide or training video.  (YouTube videos adapt to mobile versions automatically)
You could even just have it leading to the agency website (or app if they have one) at the beginning of each agency's materials.
Library tours.  CALI is working with our membership to create podcast library tours called…LibTours. They are resource based and as we cater to the law library market, not all of them are useful to gov docs librarians, but a couple are (such as the CFR one).  Please feel free to use or adapt this idea.
Really, the possibilities are limitless.