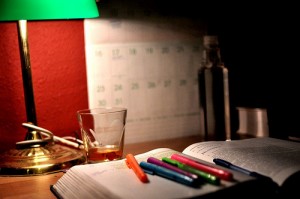 It seems that every conversation about educational reform lately mentions the high price of casebooks (for law students) and textbooks (for other types of students.)  I mean, casebooks were expensive when I was in law school ten years ago…so of course they're expensive now, right?
Holy cats, y'all, I had no idea.  Maybe you have no idea.
I got it in my head today to look up the 1L second semester schedule at a law school here in Chicago and then go to their bookstore and see how much they would cost. Grand total for required and recommended texts for four courses purchased new from the bookstore?
$969.00.
NINE HUNDRED AND SIXTY-NINE DOLLARS.
I honestly felt a little nauseous when I added up the numbers and got the final amount.  And I didn't even have to buy them.  Now, granted, there are lots of ways to cut back on that cost….buy used or rent, not get the recommended text, shop around online.  But still.  Even if you manage to shave 50% off of your cost, that's still about $500.
Now, in the interest of full disclosure, I work for a non-profit publisher that's creating free casebooks for law students.  But I don't want this post to be an advertisement for that and that's not why I wrote it. (I keep that sort of stuff on the blog I write for them.)  I'm really just sharing this because I was honestly stunned at how much textbooks cost once I saw some concrete numbers.
So, if you work in a law school – or any branch of academia, really – check out the book store and look at the prices of the books.  I mean, really look at them.  You might be surprised by what you see.
Photo credit: http://www.flickr.com/photos/davidortez/