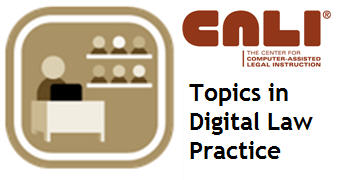 When I started working for CALI, I swore that this, my personal blog, would not become a series of advertisements for CALI products – I have a blog over on CALI Classcaster to do stuff like that.  However, I am making an exception just this once BECAUSE THIS IS IMPORTANT.
I have been admittedly in a bit of an academic bubble.  Sure I had heard about (and skimmed) the Carnegie Report about legal education and knew that more practical legal education was needed, but wasn't quite sure what that meant.  That started to change once I moved up north.  I could go to events like the ABA tech show and then once I started at CALI, I really got exposed to some of the new advances in legal practice.
Virtual law practice.  Unbundling. LegalZoom. Open law. Even social media. These are all huge changes that are affecting the way law is practiced in the 21st century. Unfortunately, not many law schools are touching upon the subject and to hear experts talk about it costs a lot of money, either through CLE costs or conference attendance fees.
CALI is giving people the chance to learn about these topics from the WORLD'S experts on these topics. (And it is seriously not hyperbole to say that about them. Except for me. I mean, I'm not bad, but I'm basically on the program because I work here.)  Best of all?  We're doing it for free.  FREE.  Starting February 10, a MOOC (massive open online course) on Topics in Digital Law Practice will be offered.   Registration and a speaker list can be held found on the TDLP Website.  The classes will be held Friday afternoons, but if you're busy then or don't care about watching live and asking questions, the screen casts will be posted later to the website.
Please please please think about participating in this. Not because we're trying to get our numbers up but because I really think this is a fabulous, one of a kind learning opportunity for law students, law librarians, law professors and even practicing lawyers.
I know of at least one law school that is hosting group viewings for students (with cookies!) and I think that is a great idea!  Feel free to do that.  If you are a firm librarian, maybe you can do that too and provide an excellent educational opportunity for the attorneys you support and learn about the changes yourself.   Law profs?  Maybe you can adapt some of these lectures for your own classes (or just show them.)  And I know I get a lot of undergrad academic librarian readers here – if you support a pre-law program, these recorded lectures are going to be a valuable insight into how law practice is changing.
I really didn't have too much to do with the creation of this MOOC, but I'm still very proud to work for an organization that provides such a wonderful learning opportunity for the community.  It's a good feeling.