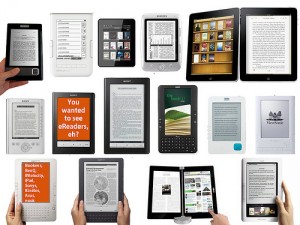 Last week, in a AALL members forum thread about the new Apple iBooks software, I posted that if anyone would like instructions on how to make ebooks using free, open source software, I'd be happy to explain how I do it.  Quite a few people took me up on the offer and since I now have instructions written out, I figured I should turn it into a blog post – not so that people stop emailing me, mind you. I'm still very happy to answer questions or offer what tips I may have.   It's more because clearly there is a desire out there for this information.
Why would you want to make eBooks? They are a lot easier to read on tablet computers than a PDF, so if you're taking the time to type up a research guide or something similar in MS Word and then PDFing it for web posting, you might as well take another 15 minutes and make an eBook out of it.  But there's also lots of government information out there that you can scrape and make into a new, more usuable product – either for benevolent or not so benevolent reasons.   For example, if you're an academic law librarian, imagine taking your state's Rules of Court, making them into a nice ePub, putting a cover on it saying "complements of Jane Smith Law Library, University of X College of Law" and then sending it out to all of your alumni.   Or substitute "firm librarian" for academic and "practice group" for alumni.  A more benevolent example would be to partner with your faculty members that assign statutory supplements for their classes, offer to make them and distribute through library website and save the students about 100 bucks per class.
Really, once you start looking around, you'd be surprised about how much you can transform into an eBook format.  And it's sort of fun. When my co-worker Elmer showed me how to do it, I sort of went into a crazed "I WANT TO EBOOK THE WORLD!" mode. Hopefully you'll keep it together a little more.
So, everyone excited about making eBooks?  Excellent. Let's do this.
There are several ways to create eBooks.  This is just how I do it.   A basic over view is that I  transform a word document into an .epub ebook.  Epubs can be read on iPads, iPhones, android tablets, Nooks…basically anything but a Kindle.   The .epub version of the manuscript is then transformed into a .mobi format and this can be read on a Kindle.   You don't have to have an account with Amazon, iBooks, Barnes and Noble etc. to distribute your ebooks after you create them.  If you can link to a file like a PDF, you should be able to upload the .epub and .mobi files the same way and provide links.  When a person opens the file on a tablet, iPad or phone, they will automatically be able to view them like a commercial eBook through the eBook viewer of their choice.  I don't know how or why this happens, so I just chalk it up to magic.  Otherwise, they can download the files and manually put them on their device.
You'll need the following pieces of software downloaded to your computer (assuming you start off with an MS Word manuscript to transform into an eBook.) All of them are free and open source, with the exception of MS Word.
1) MS Word
2) Open Office, an open source version of MS Word http://www.openoffice.org/
3) The Writer2ePub plugin for Open Office http://extensions.services.openoffice.org/en/project/Writer2ePub
4) SIGIL, an ePub editor http://code.google.com/p/sigil/
5) CALIBRE, an eBook viewer that allows us to convert ePubs to mobi http://calibre-ebook.com/
1) Get manuscript in MS word. This can be something you typed up, something from a public domain or Creative Commons licensed source…basically, I feel like I would be remiss if I didn't mention that you should make sure you're not violating copyright laws by transforming and distributing whatever it is your going to make an eBook.   As an example, here's the offerings of the Indiana Court system.  Look at all those Word documents just waiting to be transformed!

2) Download and save the MS Word manuscript.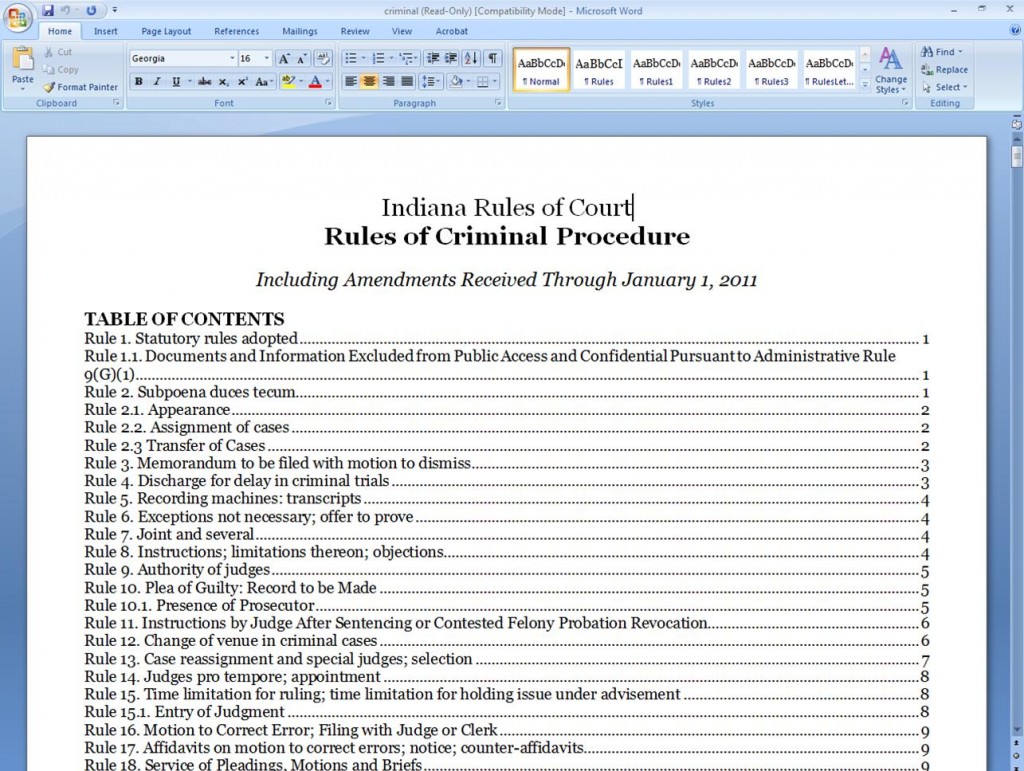 3)Then open up Open Office and open the MSWord manuscript in Open Office.  Save it as an .odt extension, which is the Open Office Open Document Extension.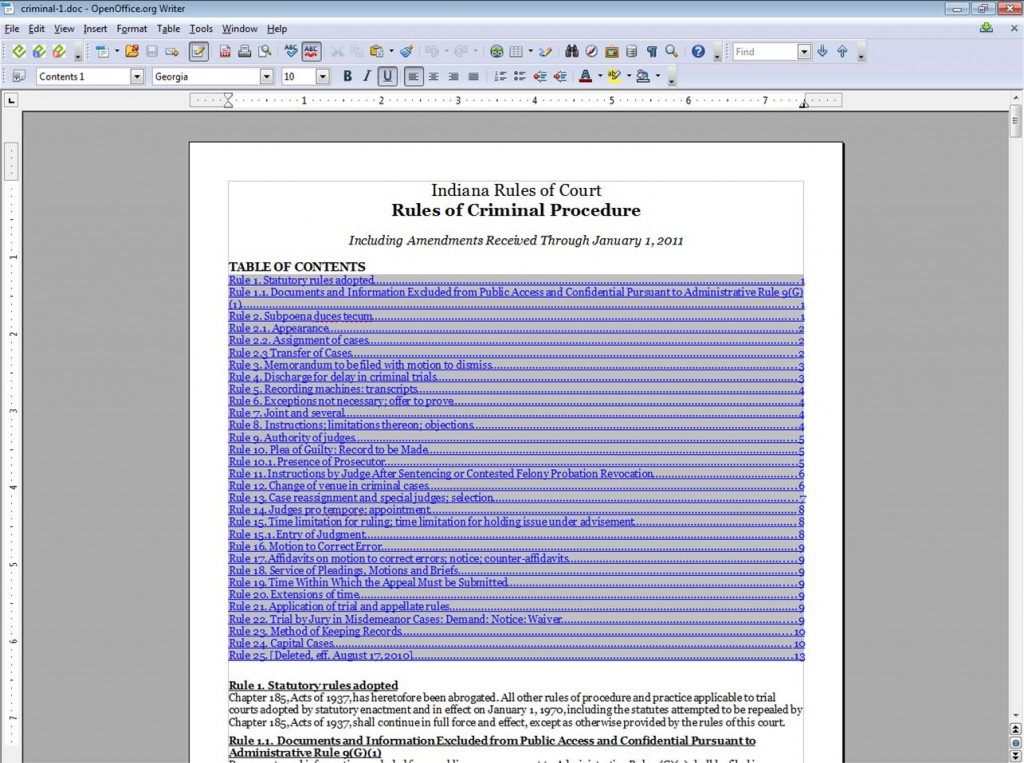 4) The Writer2ePub extension will appear as a green e button on the left hand side of Open Office tool bar.  Press the Writer2ePub button and it should generate your ePub. (You may have to close Open Office and reopen the .ODT version of the manuscript. I have no idea why it gets fussy about this.) A dialog window will pop up and ask about cover art and author/title metadata. You can skip the cover part for now.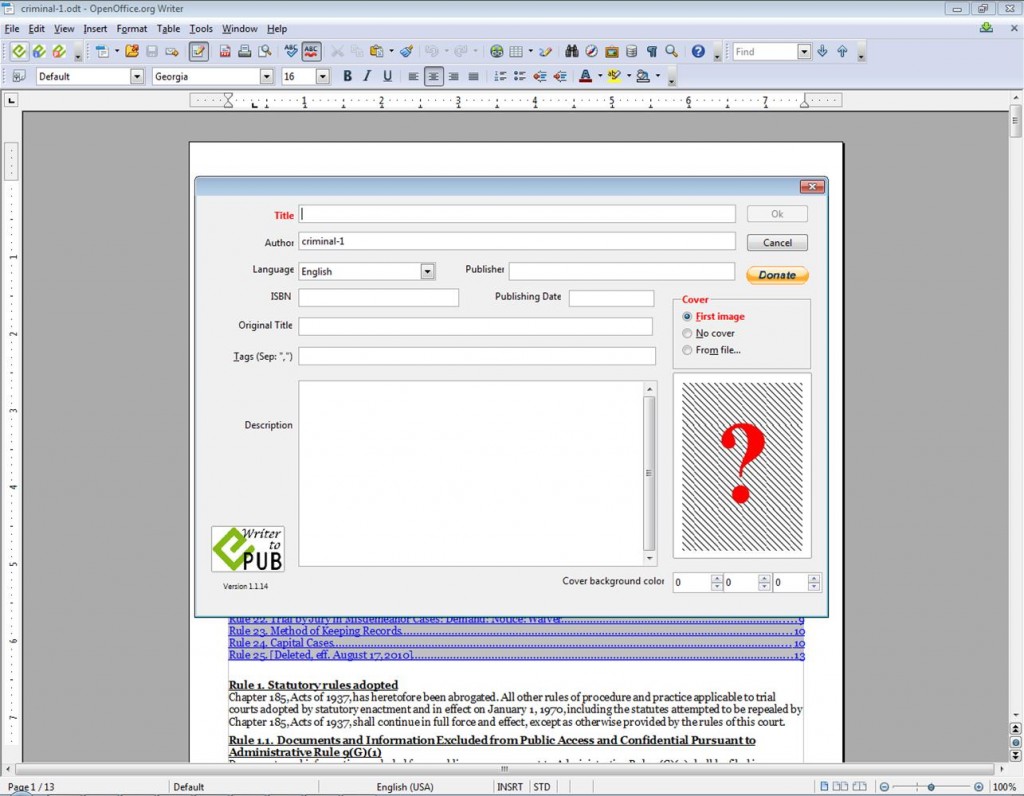 5) The ePub of your manuscript should be saved automatically to your computer and it will have a SIGIL icon on the ePub one. (Instead of how word documents have the Word piece of paper one.)
(6) When you open the .epub Manuscript in SIGIL, you can edit it either in the WYSIWYG "book view" or if you are familiar with HTML, the "code view". But really, at this point, it's an eBook ready for viewing on nooks, iPads, iPhones, android tablets…anything BUT a kindle. For example, even footnotes transfer through the conversion and jump back and forth.
WYSIWYG view: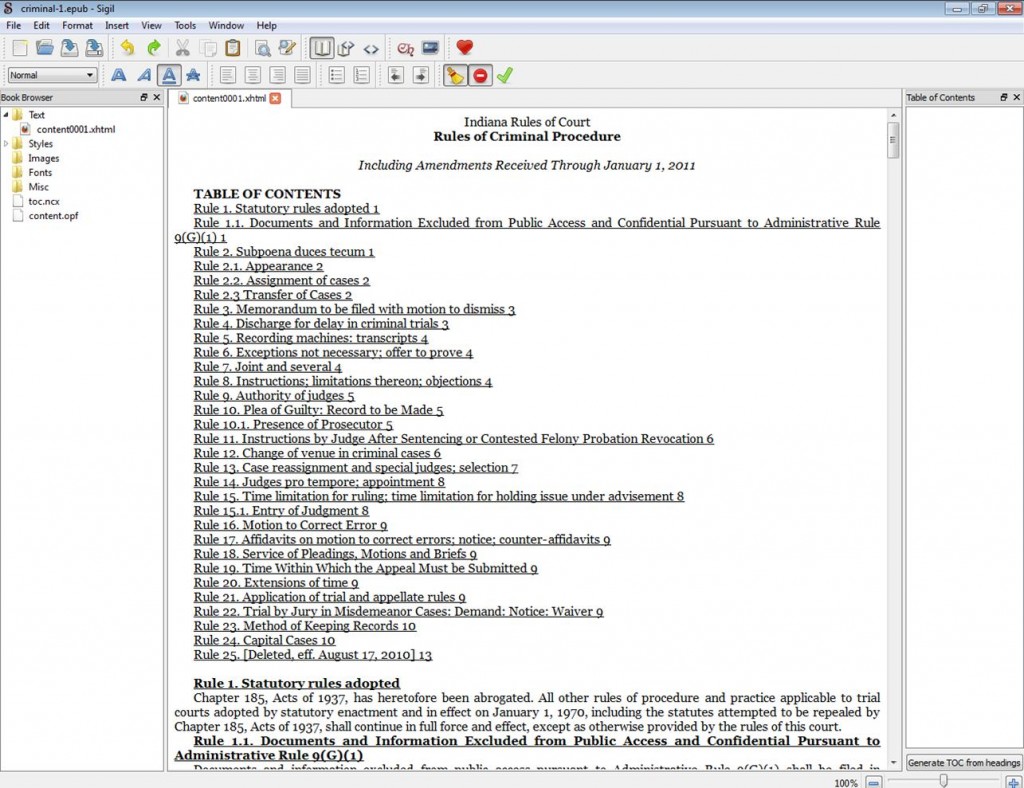 Code view: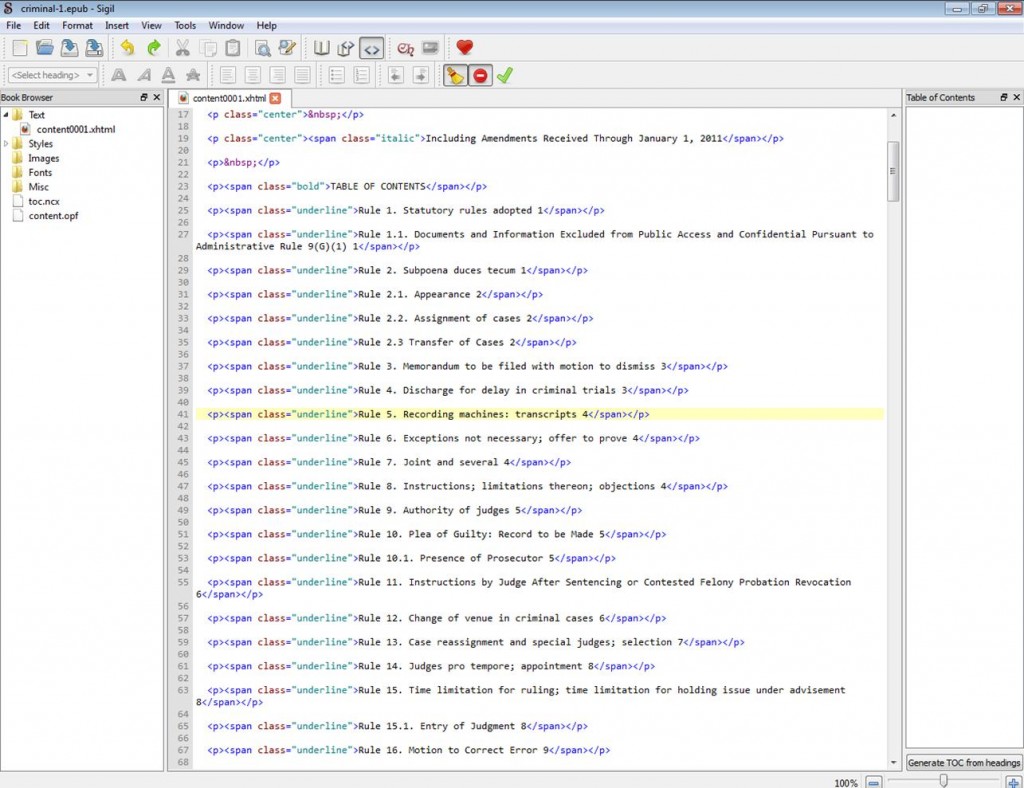 (7) SIGIL lets you manipulate it if you have special requirements. At CALI, we take this time to add in our own CSS style sheet (ePubs are basically mini-webpages) so the fonts look pretty and so that cases that appear in the books have special formatting. We also add a .jpeg cover art.   Under the "tools" heading on the toolbar there's a metaeditor so you can add in metadata like title, creator, date, etc.
Also, sometimes the transformation isn't perfect.  In this example, the Table of Contents didn't transfer through cleanly.  No problem..SIGIL can create a Table of Contents based on the headings.  To do this, I just went through the document and applied headings (by highlighting and then selecting heading size) to the sections of the manuscript.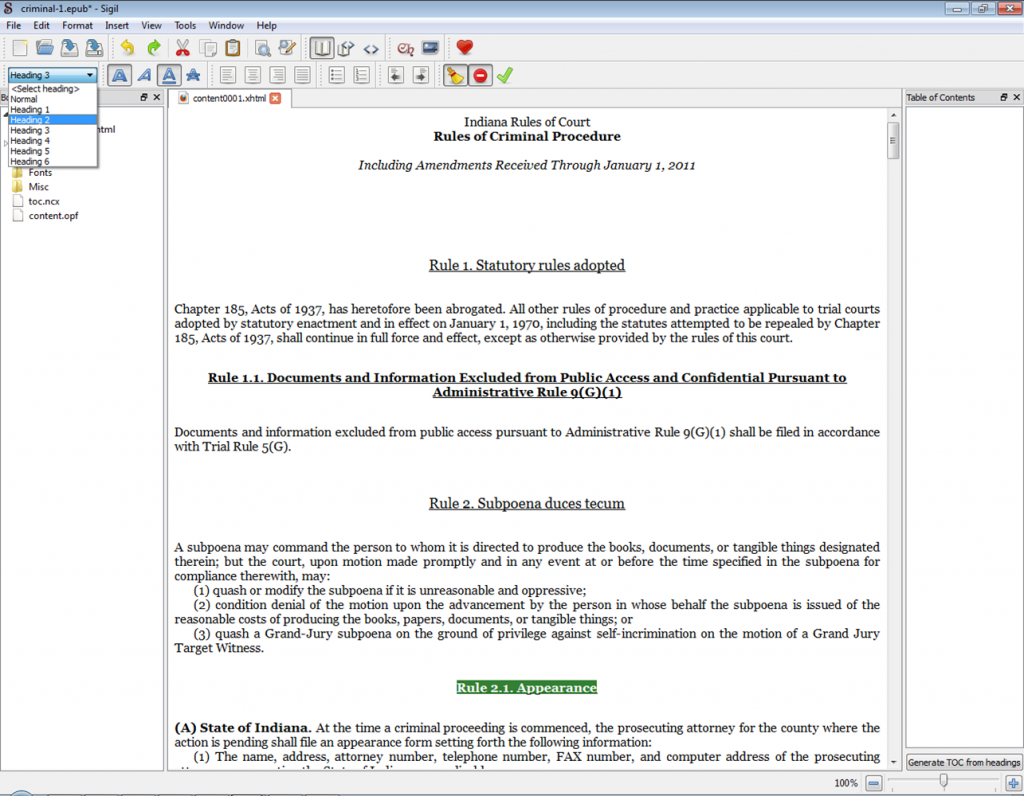 And then SIGIL can generate a Table of Contents based on this by clicking "generate TOC from headings".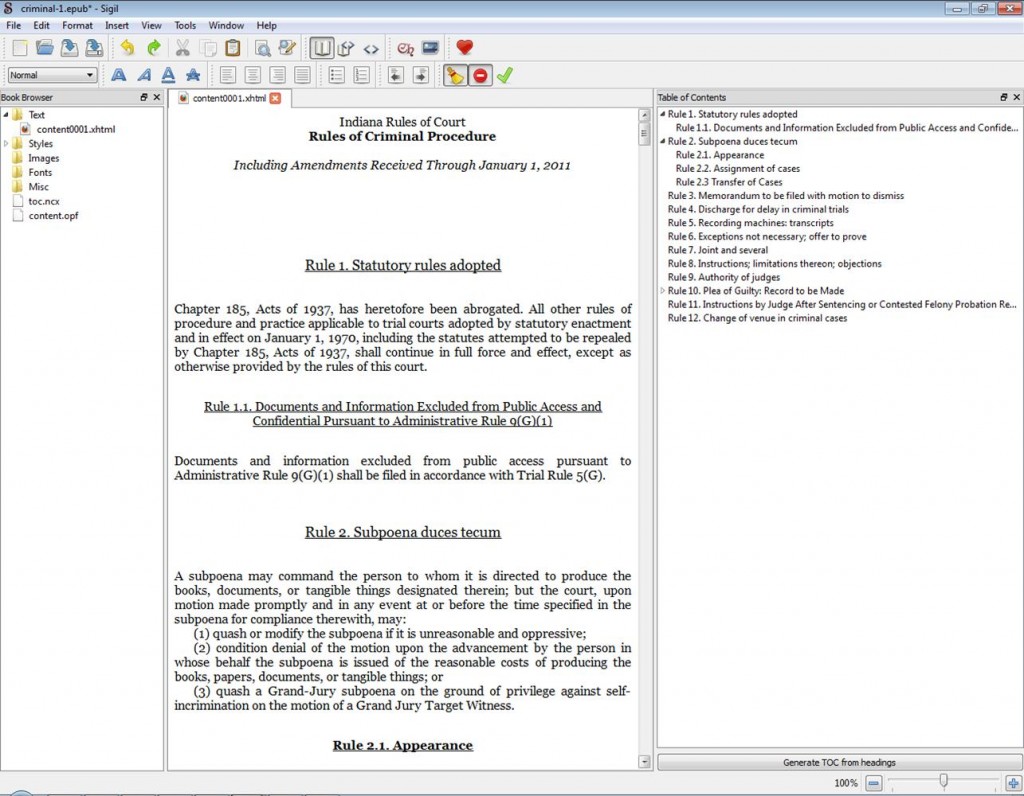 (8) To make it kindle compatible, I upload the saved eBook epub file in Calibre. It has a "convert books" button on the top of the tool bar and it allows for conversions of .epubs to a variety of formats. The .mobi format is the one that Kindles can read.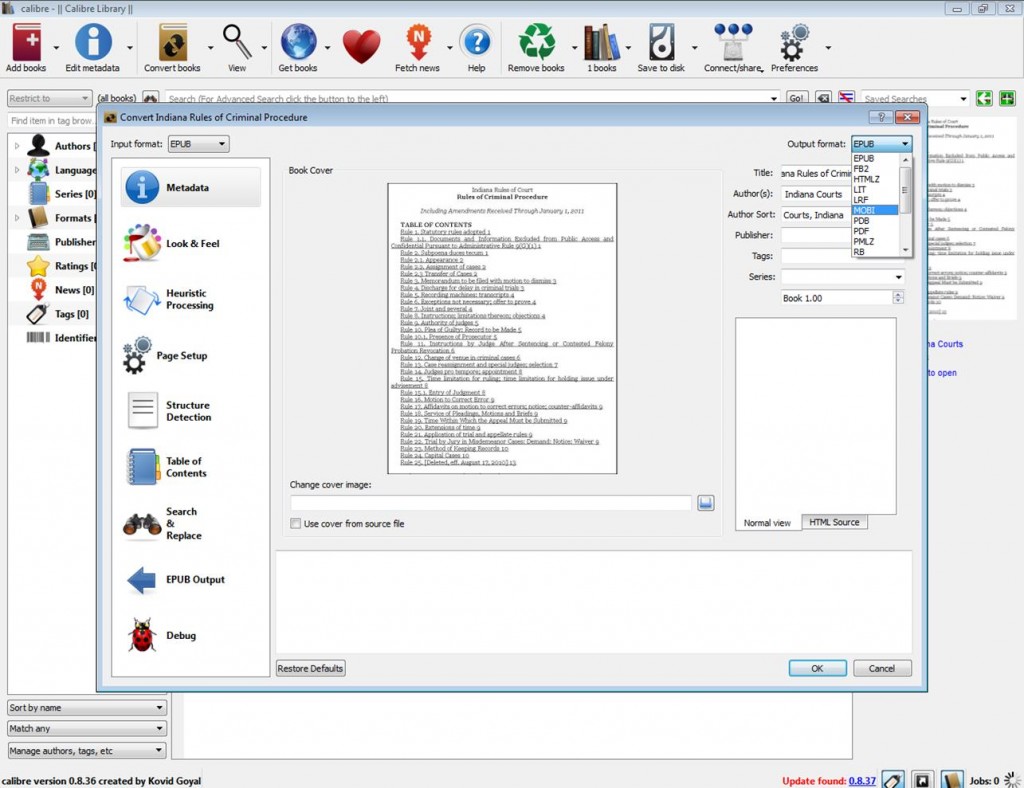 I do this now a lot, so admittedly I've got the system down, but it takes me about 15 minutes from MS Word to .mobi, assuming that there's no major editing that needs to be done in files such as fixing links or headings or changing the style.
The above assumes that you're working from a pre-written MS Word manuscript.  You can always start with SIGIL and type right into it.  If you have webpage that you'd like to make into an ebook, you can click "view source" on it, select all the code you see there, copy it and then directly paste it into a SIGIL file's code view. Just delete everything there and paste the webpage information over top of it. Here's how to get the source code of a webpage  if you've never done it before.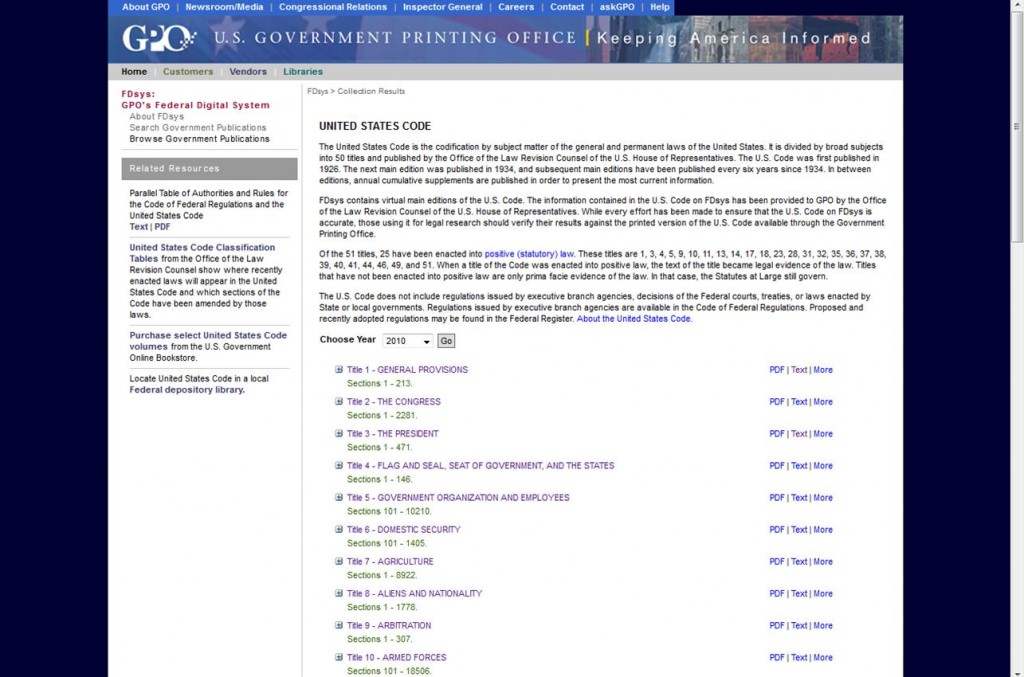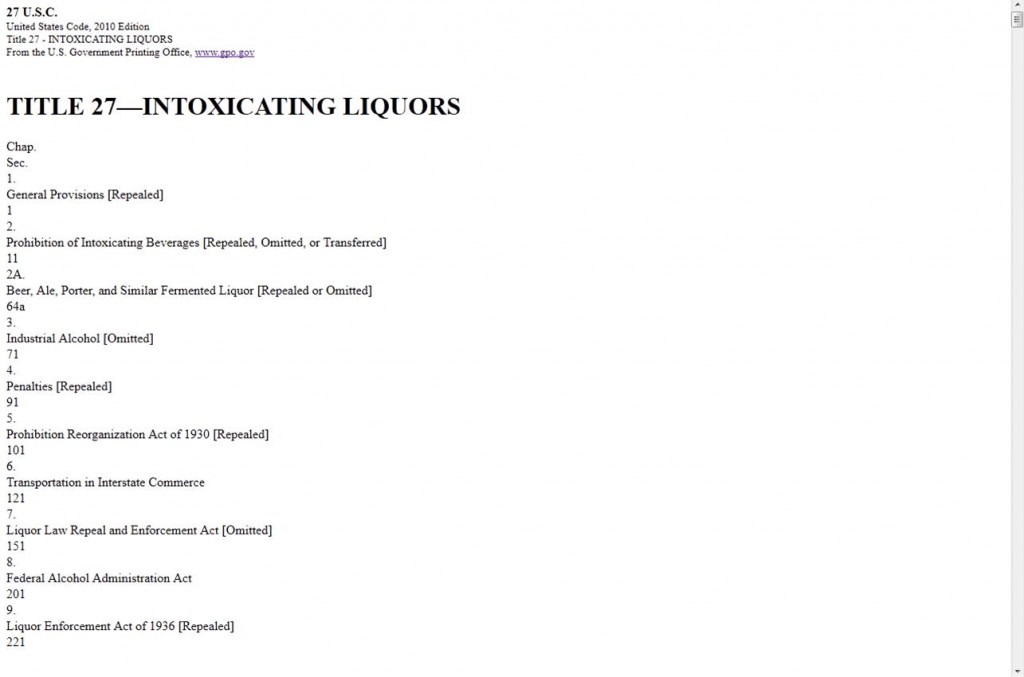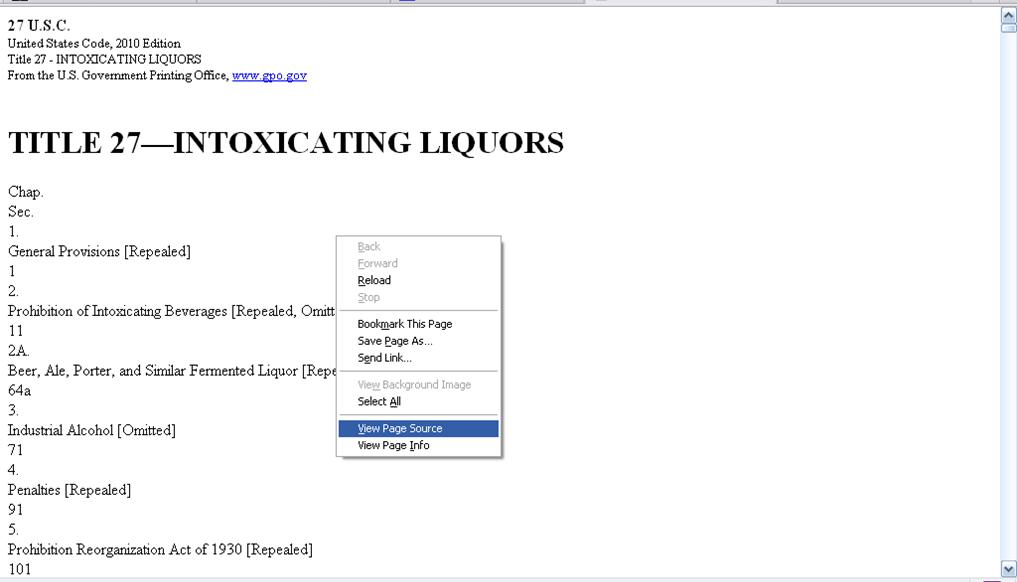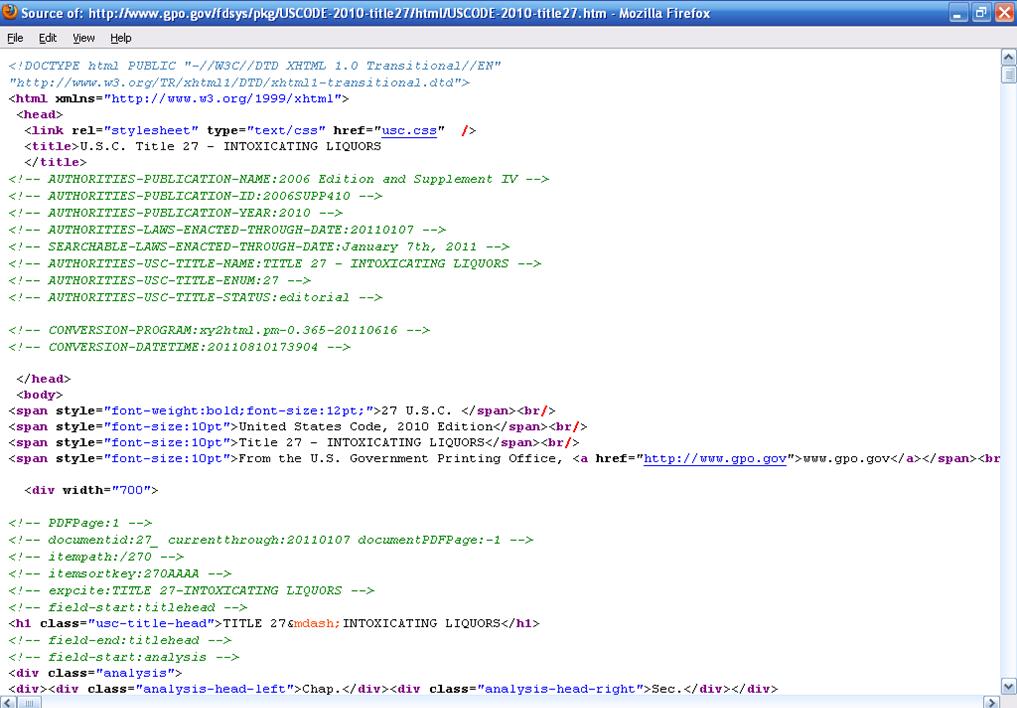 So that's the basic process. I hope it was somewhat helpful and if you have any questions or have suggestions, please don't hesitate to ask/offer.
 eReaders photo credit: http://www.flickr.com/photos/libraryman/