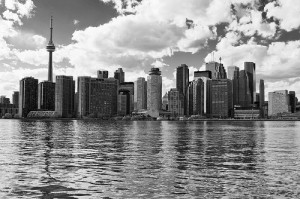 Just to cut to the chase, if you're looking for the slides from my recent Canadian Association of Law Libraries CALL/ACBD talk, they can be found here.
I just got back from CALL/ACBD.  I had a great time and am scheming for ways to go to it every year.
This was actually my second CALL conference, the first being in October 2007 for the joint CALL/Northeast regional conference (also held in Toronto.)  As that conference took place right before my birthday, I decided to extend my trip and have a mini-vacation afterwards.
I'm one of those people for whom birthdays are always exciting.   Not because I like being the center of attention – I don't – but more because after surviving several major illnesses and medical issues in my life, I'm somewhat surprised and delighted to be growing old and still alive.  So I take my birthdays seriously.  They're always a good time for me to reflect on the past year and make plans for the next.
Back in October 2007, I was wrapping up my second year as a librarian and first year as a legal research professor.   I still really didn't know shit from apple butter (as we say back home) but I was starting to get an inkling of where my professional interests and strengths lay.  Specifically, I realized that I was fascinated by technology.  Not the nuts and bolts of how things work – I still frequently cite Arthur C. Clarke's idea that "Any sufficiently advanced technology is indistinguishable from magic" and am quite content to believe that most technological applications run on magic.   No, what I am interested in is how people use technology to make their lives and work easier and how they use it to connect with each other.
So while walking around Toronto on my birthday in October 2007, I got the crazy idea that I should start a blog.   Just because I like to write and I wanted a place to hash things out when it came to figuring out all this technological stuff.  Maybe meet some like minded people.  And thus The Technological Tortoise was born.
Since you're reading this that obviously worked out pretty well.
Fast forward four and a half years.  My life and career have taken turns that I never could have dreamed possible back in 2007.   I recently stumbled upon St. Gregory of Tours' opening lines to his History of the Franks: "A great many things keep happening, some of them good and some of them bad."   That pretty much sums it up for me too.   Seemingly the only thing that's the same as 2007 is that I was back in Toronto with time to think and reassess.
The past year has been very, very difficult. (For the JDs among you, it's felt like the first week of law school for eight months straight.)  Definitely the hardest of my professional life and in the top five of my entire life with regards to non-career stuff.  Which is not necessarily a bad thing.  Triathalons are difficult but people willingly sign up for them because, as I'm told, there's a joy to be found in extreme physical exercise.  (Personally, I wouldn't know about that.  Every now and then I have to run a block to catch my train and then my side starts to hurt and then I'm pretty much angry the rest of the day because of it.)  I haven't discussed  much about the changes I've gone through in the past year (or talked about much of anything) because I tend to wear my heart on my sleeve while writing and I didn't want to produce the blog equivalent of an image of a person crossing the triathon finish line with feces running down their leg.
SERIOUSLY. WHY DO PEOPLE DO THAT TO THEMSELVES?  TRIATHLONS DO NOT LOOK FUN OR HEALTHY.  But I digress…
In my analysis of my life and career while walking around Toronto, I realized that one thing I really miss about my old job is the chance to directly help people.  I mean, I help people every day in my current job but it's a more general distributed help.  I miss the "someone asks me a question and then I give them an answer" type of direct help.  I also miss writing/blogging but I don't know that I'm quite ready to get back in the saddle full time.
I think I have a way to scratch both of these itches.    Presenting…..
I've been threatening to do this for a few months now – basically, it's an advice column for libraryland.  Tough love type of advice about careers, intra-library staff issues, patrons and life itself.   This is sort of a soft roll out for it. (And a waaaaay buried lead.)  As with a lot of things in my life that I try, who know if it will work or if anyone will take advantage of it, but you never know until you try.   So if you want me to tell you what to do, shoot an email to bossofyoublog AT gmail DOT com.
Photo credit: http://www.flickr.com/photos/andreyca/4517068920/