Earlier this week, Google changed their logo into a barcode to celebrate the 57th anniversary of the first barcode patent.   (As an aside, it's amazing how many anniversaries, birthdays, other events from history, etc. I learn about from the Google Logo. )  That, combined with seeing this pic of Maurice that Michael P. posted in his blog, reminded me that I've been wanting to mention QR Codes.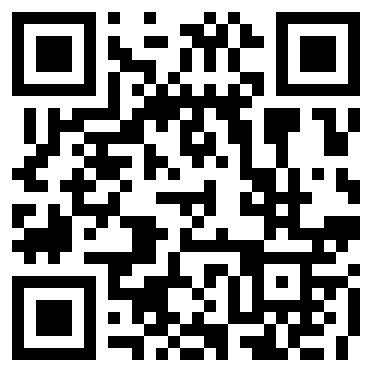 QR Codes are a special kind of barcode.  They have many industrial uses to track shipping and things, but they have also started to be used by the general consumer.   To use them, people can scan them with their mobile phone, which will then open up a webpage, give them a phone number, or text message.  For example, the one pictured here will open up http://sarahglassmeyer.com.   I should note, that the mobile phone will need to (a) have a camera (pretty common today) and (b) have the QR Code reading software (not so common, but there are dozens of free software and app downloads for this for just about every mobile phone/smartphone out there.) Making QR Codes is pretty easy too.  I made this one using this free generator and there are plenty more of those, to be found with a basic Internet search.
The technology is about 15 years old, and is widely used in Japan, but hasn't quite taken off here in the U.S….yet.  I suspect that with the rise of mobile phone ownership and use, that will slowly change.  So, how might libraries use it?  Well, off the top of my head, I think you could place one at the front door that will tell patrons hours/contact info/etc., especially if they arrive after business hours.  You could have one at the Reference Desk that will connect to a SMS reference service.  Or how about putting them on the end caps of shelves? So, for this example,  put a link to your Tax Research Guide on the shelves that contain your tax books.  Or another link to the reference desk info for research help.  And, of course, these examples require that (a) you have online research guides that are (b) mobile friendly.
Just as an FYI, I am aware of the irony of writing a post like this – talking about a technology that hasn't been used much yet and won't have many practical  applications for a while – immediately after writing a post criticizing technology futurists.   Well, here's the thing…I like to keep abreast of new technologies.  I pay attention to this stuff so you don't have to…some of it is going to turn out to be very useful, and some will just be a flash in the pan that won't. *cough* SecondLife *cough*  In a while, when you are ready to adopt some of these ideas in your library, you can scan through the archives here at at other tech blogs and figure out how to best adopt them for your users.